Description

This workshop is aimed at: business owners who need to confidently "sell" their own products/services and negotiate with buyers.
Description:
This workshop will help you understand the theory of selling and negotiating, and the psychology of buying. Using your customers as examples, you will gain an understanding of how you can apply sales techniques, using your natural communication style, to increase the opportunity to close the sale.
You can expect to gain the following from this workshop:
An understanding of the sales process and how you can practically apply this to your products and services

Defining your communication style and how to listen out for clues to understand your customers preference

A greater understanding of your customer, to support tailored sales conversations

A greater understanding of the negotiation process to support assertive conversations

An opportunity to practice the skills in a safe and supportive environment
Workshop leader:
Fiona Kilsby


Fiona describes herself as "all about people". Her company, The New To Experts, works with small to medium sized businesses, helping them achieve great communication, in areas such as leadership, management and team development. Prior to setting up her own business, Fiona's corporate career was as a Sales Director in the Pharmaceutical and Healthcare industry. She passionately believes sales are delivered through great communication, and loves demystifying the sales process.
Barbara Hodgson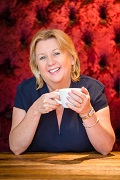 Barbara is a Women In Business Network franchisee and owns eight groups with over 150 members across Northants, Leicestershire and Stamford. Barbara loves connecting business people and attributes her success at this commercial matchmaking to truly understanding people's businesses. Your Business Matters grew out of her desire to help business owners find strategic connections and partnerships that will make a difference to their business, as well as enabling them to hone their business skills through training and development
What you need to bring with you to the workshop:
You will receive information to complete before the workshop upon booking.