Denzil Forrester - Artist's Talk - No Colour Bar - Guildhall Art Gallery
Description
Explore the Artists who shaped generations: Denzil Forrester
The No Colour Bar public programme has as one of its highlights a lecture by Denzil Forester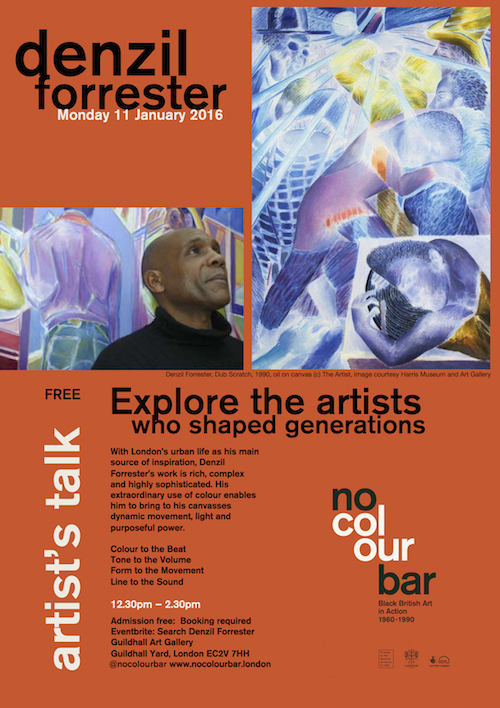 Artist's Talk


Explore the artists who shaped generations : Denzil Forrester
With London's urban life as his main source of inspiration, Denzil Forrester's work is rich, complex and highly sophisticated. His extraordinary use of colour enables him to bring to his canvasses dynamic movement, light and purposeful power. Join us for a rare opportunity to hear about Denzil's fascinating career and his journey from his earliest days: in 1972 at Colverstone Youth Centre, Dalston, Hackney to the foundation of his painting life, 1975 to 1983 at Art School from 1983 to his 1988 Fellowship, Denzil's talk will focus on the night clubs in Hackney, the music they played, Dub music, and how this influenced and help him to develop his unique aesthetic.
Colour to the Beat
Tone to the Volume
Form to the Movement
Line to the Sound
Booking is essential as there are limited seats available.
Please note that there is no cafe within the Gallery.