A special edition of regular DEPO pitch events is here. This time FINTECH & BLOCKCHAIN edition with corporate partners and experts.
About this event
🤔 Why is Fintech and Blockchain attractive for investors? How can Europe become in Blockchain giant? What is the future of Blockchain and Fintech and what are the current issues? You will find out during the panel discussion at the DEPO Startup Pitch - Fintech & Blockchain edition.
🦄 You will also see 10 promising startups that we selected from Central and Eastern Europe, mainly the early stage funding round. Each startup will pitch for 3 minutes. This time we are using the HOPIN platform and you may schedule 1on1 meeting, thus you can use this event more efficiently.
Agenda
16:00 opening
16:05 welcoming, thanks to partners, instructions
16:10 panel discussion
Viktor Gřešek - Business Development CEE from Mastercard
Jiří Skopovy - Lead of CS Seed Starter program
Jaroslav Horváth - Innovations & Insights at Raiffeisenbank
Jiří Kobelka - founder of TATUM
Juraj Kralik from Fintech Hub Slovakia
Michal Ciffra - co-founder of DEPO Ventures
16:40 Pitch sessions
• 5 min x 10 startups
• Each startup has:
◦ 3min pitch
◦ 1min Q&A
◦ 1min Jury feedback
17:30 Official end
17:40 Networking
18:30 End
The Jury consists of
Viktor Gresek from Mastecard
Jiri Skopovy from CS Seed Starter
Jaroslav Horvath from Raiffeisen Bank
Jiri Kobelka from Tatum
Michal Ciffra from DEPO Ventures
Juraj Kralik from Fintech Hub Slovakia
Patrik Juranek from Startup Disrupt
👇 Details
Thursday, September 30, 2021
4 PM (CET)
Online HOPIN platform
📢 SPECIAL OFFER
This event is supported by community partner Startup Disrupt. By buying a ticket you get free access to their FINTECH 2021 event that is held one day before the October 29th. Do not miss this load of fintech!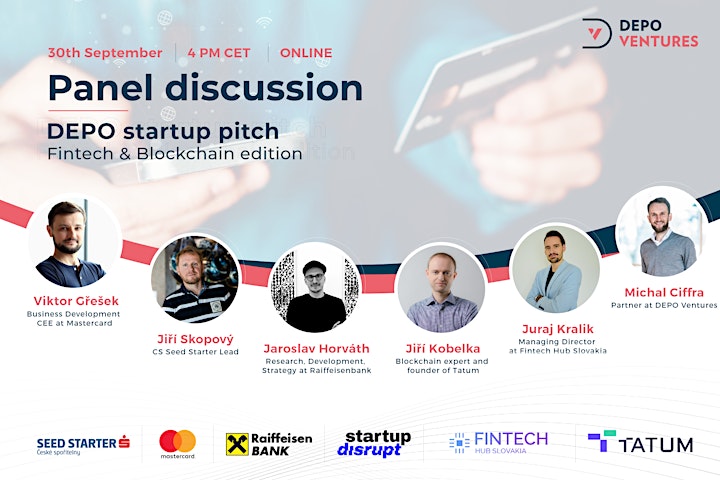 ORGANIZER
DEPO Ventures - an investment group that manages angel funds and an international angel network.

PARTNERS
Mastercard - a global pioneer in payment innovation and technology connecting billions of consumers, issuers, merchants, governments & businesses. Their mission is to connect and power an inclusive, digital economy that benefits everyone, everywhere by making transactions safe, simple, smart, and accessible.

Seed Starter - a new program from Česká spořitelna. They are looking for 'long-game' startups - business plans that have the potential to last for 200 years, thanks to their vision and value for customers. They offer companies equity investments during the seed phase, professional incubation and a wide network of partners and customers, with whom we can connect startups and help them enter and scale up in the market.

Raiffeisen Bank International - considers Austria and Central and Eastern Europe (CEE) its home market. In Austria, it is a leading commercial and investment bank for the country's top 1,000 corporate customers. In CEE, its subsidiaries cover the largest part of the region. 17.7 million customers are serviced through approximately 1,800 business outlets in Corporate, Retail and Investment Banking.

BLOCKCHAIN EXPERT
Tatum - a company offering a tool that helps to develop blockchain apps. The tool is so simple that most applications are finished in hours, units of days at most. They are the first developer-focused blockchain infrastructure and API provider to support Flow. They were first Czech startup that got funding from prestigious SkyDeck accelerator.

FINTECH EXPERT
FinTech Hub Slovakia - Consortium of leading innovative companies in the FinTech field – Mastercard Europe and Vacuumlabs, together with Slovak Fintech Association, created Fintech Hub Slovakia with the clear intent of uplifting the level of digital finance innovation in Slovakia and across close regions. Their shared vision is to help create and nurse established projects and services that help its users in everyday life.

COMMUNITY PARTNER

MEDIA PARTNER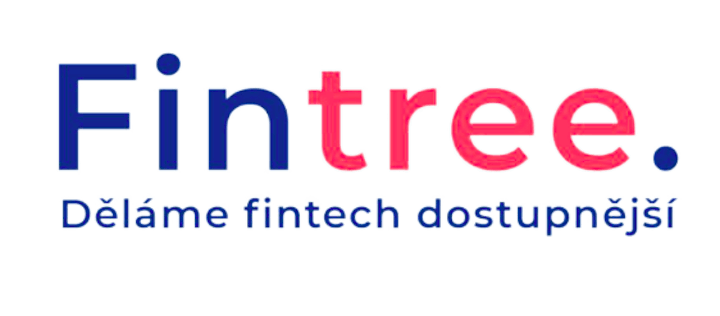 Organiser of DEPO Startup Pitch | Blockchain & FinTech