Location
Parlour, Unit 3, Temporary Contemporary
23 Princess Street
Huddersfield
HD1 2RS
United Kingdom
A drawing workshop and subsequent exhibition exploring the textures of the canal space.
About this event
This drawing workshop will be led by artist and lecturer Simon Woolham and writer and academic Jodie Matthews. The workshop will be focused on the process of collecting and interpreting graphite rubbings from the Huddersfield Narrow Canal. You will explore the topography of the canal by directly taking graphite rubbings from the surfaces and textures of the canal with Simon, Jodie and joined by a Huddersfield Narrow Canal specialist.
The first hour will consist of introductions to the history of the Huddersfield Narrow Canal, the day's workshop and a demonstration on how to best take a graphite rubbing and what surfaces work best. We will then walk down to the canal site near the university, collecting A4 graphite rubbings. After this we will spend time laying out the library of graphite rubbings and discussing the interpretation of them and then developed into a large-scale collective and collaborative artwork at the PARLOUR space.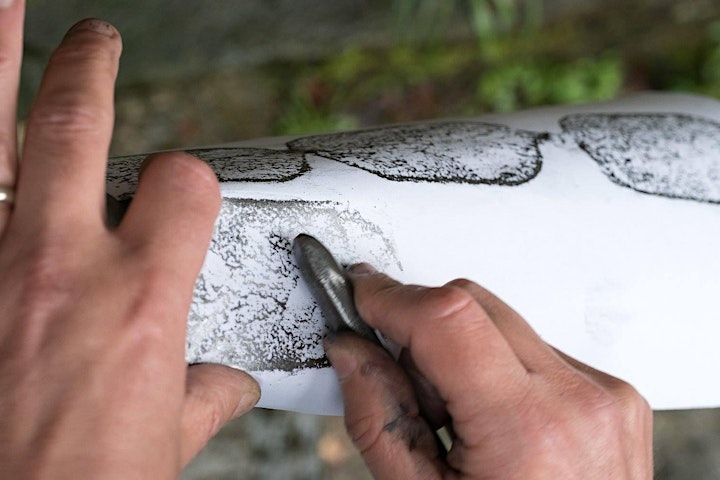 Simon Woolham is a lecturer in Contemporary Art at the University of Huddersfield. Simon graduated as a painter from Manchester Metropolitan University followed by an MA from Chelsea College of Art in London. Simon's practice as an artist, curator and teaching specialism is centred around expanded drawing and this was the focus of his practice-led PhD from 2012 and awarded in 2016 at Manchester Metropolitan University. The PhD explored walking (in the broadest sense) and narrative in physical, virtual and psychological space, expanding on the notion of an artists' residency of the mind. Simon has exhibited widely, including a residency and solo exhibition at The Lowry in Salford and Chapter Gallery in Cardiff, as well as numerous national and international group exhibitions. In 2008 Simon was included in the first Tatton Park Biennial and in 2006 he was Artist-in-Residence at Baltic - Centre for Contemporary Art in Gateshead, he won the Mostyn Open 11 at Oriel Mostyn, Llandudno in 2001.
Jodie Matthews researches nineteenth-century representations and experiences of people who travelled around Britain (including Romanies/Gypsies and canal boat people), and the cultural significance of Britain's industrial waterways. In 2016 she was appointed the Canal & River Trust's first Honorary Research Fellow. She strongly believes in communicating academic research to wide audiences, and works with charities, museums and heritage organisations, schools and others.
Outline Schedule:
11:00 – 11:30 Introduction from Simon Woolham and Jodie Matthews (DEPTH/GAUGE) and Alan Stolper from the Huddersfield Narrow Canal Society covering the workshop outline and rationale and the literary and physical histories of the Huddersfield Narrow Canal.
11:30 – 12:45 Walk down to the Huddersfield Narrow Canal site identifying 'textures of history' with Simon, Jodie and Alan identifying and collecting graphite rubbings.
12:45 – 1:00 Laying out our collection/visual library of rubbings back at Parlour in the chosen space and discussing and interpreting the.
LUNCH BREAK
1:30 – 3:30 Building a collective/collaborative large scale drawing installation as a group in Parlour.
3:45 – 4:00 Discussing and evaluating the finished drawing, workshop processes and today's impact on ways of thinking about the canal space and site of interaction.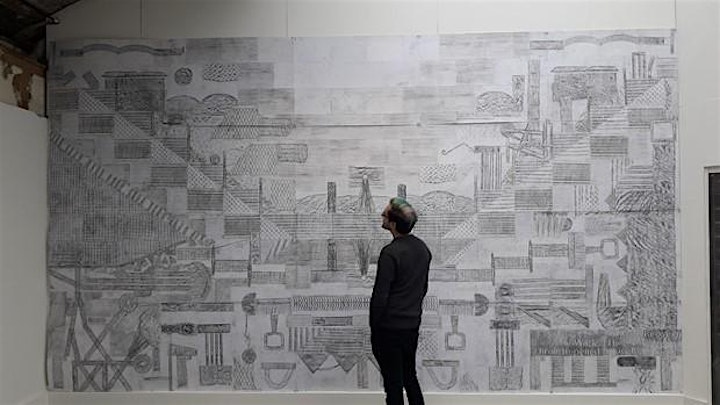 Participants and artists will meet at PARLOUR and the workshop will involve walking outdoors, if you have any questions or access requirements get in touch via the 'contact organiser' link and we'll do our best to accommodate.
Parlour has step-free access and and the closest accessible bathrooms are in Queensgate Market or Huddersfield Library.