Description
Join us on the second Thursday of each month at The Community Enterprise Centre in Derby for Coffee & Natter, Friendly, Informal & Free Business Networking. Pathway2Grow hold Coffee & Natter afternoons in various locations across the country as part of our mission to build a business community that can #Network, #Learn & #Grow together. This free event gives you the opportunity to meet professionals from a range of industries as well as listen to a high quality Keynote Speaker.

There will be tea, coffee, water and a range of snacks all provided for free during the afternoon to give you plenty of energy for networking.
1.30pm to 3pm is the formal part with open networking before and afterwards to give those who need to leave for the school run or other meetings the opportunity to take part.
The Agenda for Thursday 11th October 2018 will be:

13:00 – 13:30 Registration & Networking
13:30 – 14:00 Welcome & Delegate Introductions
14:00 – 14:40 Keynote Speech – Stuart Carter "The Seven Mistakes Small Business Owners Make With Their Pricing"
14:40 – 15:00 Business Clinic - Open Discussion within the Group
15:00 – 16:00 Open Networking, Photos and Video Testimonials

Guest Speaker - Stuart Carter "The Seven Mistakes Small Business Owners Make With Their Pricing"
Most small business owners are missing out on thousands, if not tens of thousands in revenue due to a less-than-ideal pricing strategy. When we go into business, no-one teaches us how to set our prices effectively and so we tend to either make it up, or look around us at what everyone else is doing. Neither of these strategies will help us in the long run. In this talk, Stuart Carter shares the mistakes that business owners (himself and his clients) have made in the past, and takes us through some smart, practical solutions, so you can begin reaping the rewards in your business straight away!
Stuart Carter is a pricing strategy expert, keynote speaker and author. He believes that every person on this planet deserves abundant wealth, health, happiness and freedom and, critically, that they shouldn't have to struggle to achieve it. He founded The Untapped Goldmine in 2018 to help small businesses with their pricing strategy; something that many people avoid... maybe because it involves maths and spreadsheets, and maybe because of the emotional baggage that comes along with asking for money! He has helped clients to make tens of thousands of pounds of extra revenue for work they're already doing through recognising their value, creating smart strategies and getting their money mindset right.

About The Event

The Pathway2Grow "Coffee and Natter" business networking event is relaxed networking centred around a guest speaker, which will involve a presentation on a topic of interest to anyone seeking self-development and personal and business growth. Attendees are given the option of introducing themselves with a one minute intro to the rest of the floor; however, there is absolutely no pressure to do so!
We believe we provide a no pressure environment. If you wish to network that's fine, but if not then come and listen to the speakers. We believe we are an event for non-traditional networkers as well as experienced networkers.
We believe in building an online and an offline community and there are plenty of ongoing opportunities to converse and share with a WhatsApp group (send a message to 07958 930 844 to join), Facebook Group and also on LinkedIn as well as our monthly meets:
https://www.facebook.com/pathway2grow/
https://www.facebook.com/groups/coffeeandnatter/
https://www.linkedin.com/groups/8243224/

So come and join us to #Network, #Learn & #Grow!
Parking Information:
Limited free parking on site and various free parking on surrounding roads. Contact us if you need to book disabled parking.

Regards

Your hosts


Jaz Greer, Regional Director for Pathway2Grow, Derby @JazGreer

Kasim Choudhry - National Director for Pathway2Grow @choudhry_kasim
and
Safaraz (Saf) - Founder of Pathway2Grow @SafarazAli


P.S. Follow Us on @Pathway2Grow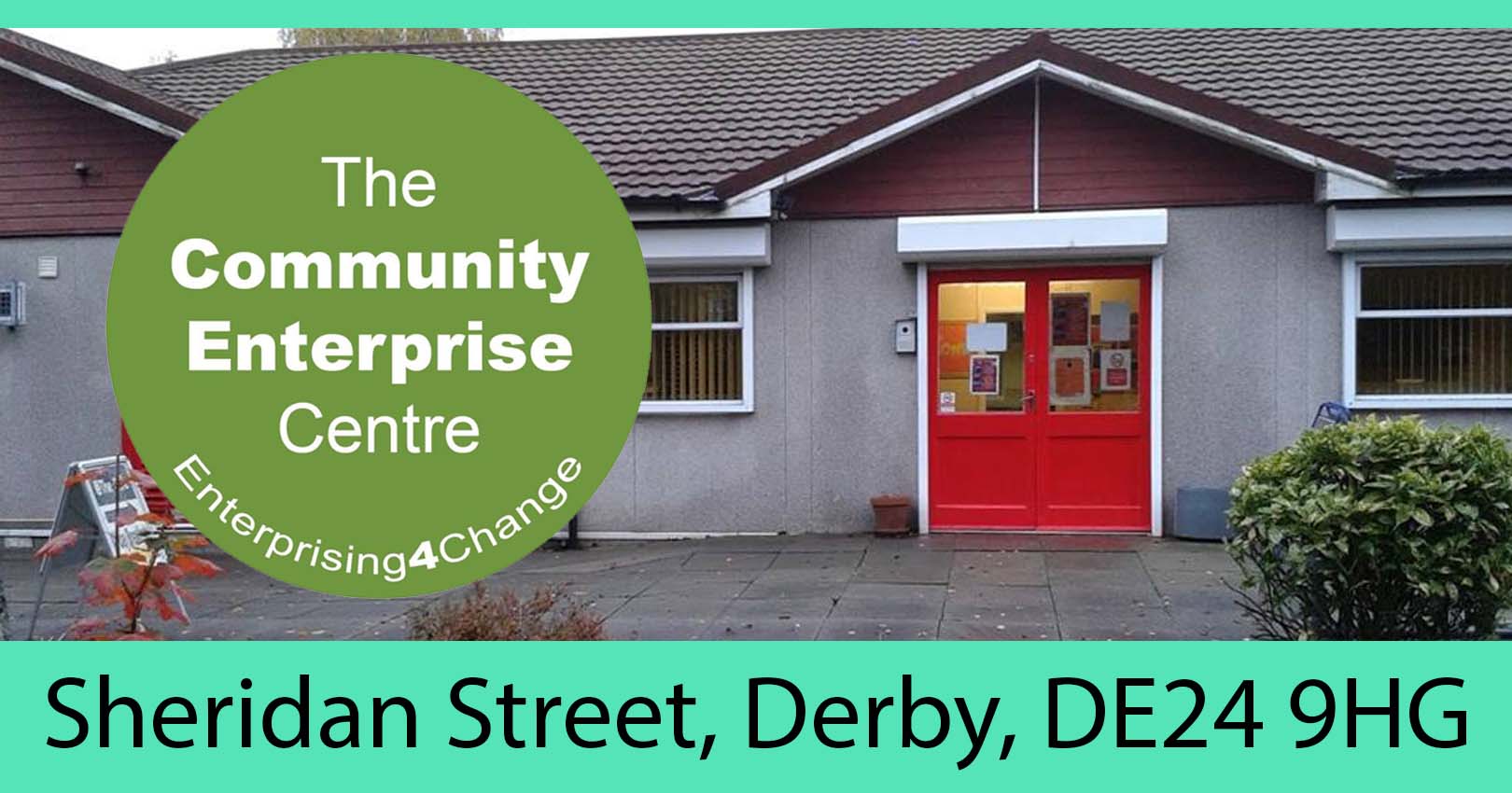 Hosted at The Community Enterprise Centre

For the past 25 years, The Community Enterprise Centre has been serving the people of Derby in the areas of skills and enterprise development, with tens of thousands of people benefiting from these services.