Description
Join us on the second Thursday of each month at The Community Enterprise Centre in Derby for Coffee & Natter, Friendly, Informal & Free Business Networking. Pathway2Grow hold Coffee & Natter afternoons in various locations across the country as part of our mission to build a business community that can #Network, #Learn & #Grow together. This free event gives you the opportunity to meet professionals from a range of industries as well as listen to a high quality Keynote Speaker.

There will be tea, coffee, water and a range of snacks all provided for free during the afternoon to give you plenty of energy for networking.
1.30pm to 3pm is the formal part with open networking before and afterwards to give those who need to leave for the school run or other meetings the opportunity to take part.
The Agenda for Thursday 13th September 2018 will be:

13:00 – 13:30 Registration & Networking
13:30 – 14:00 Welcome & Delegate Introductions
14:00 – 14:40 Keynote Speech – Errol Lawson "How to become a Key Person Of Influence"
14:40 – 15:00 Business Clinic - Open Discussion within the Group
15:00 – 16:00 Open Networking, Photos and Video Testimonials

Guest Speaker - Errol Lawson "How to become a Key Person Of Influence"
As one of the UK's top motivational speakers, Errol Lawson is a dynamic personality and highly-sought-after resource in organisations and schools looking to motivate and engage their leaders or students and see them perform at their highest potential. For more than 15 years he has not only studied the science of achievement, he's mastered it by interviewing successful national and international leaders and collaborating with them to bring transformation in the lives of young people and leaders around the world.
As a Speaker and leading authority on achievement – Errol Lawson energises people to meet the challenges of the world around them. He skilfully weaves his compelling life story into the fabric of our daily lives. He teaches his audience to be courageous, to aim high, to achieve and actively make an impact on the world.
It isn't just his great smile and his way with words that motivates people to take action like never before; when people face roadblocks or adversity it is the depth of his knowledge on achievement that creates lasting results.
Errol Lawson's straight-from-the-heart, passion and high-energy, motivates audiences to step beyond their limitations and into their greatness in many ways. In 2014 Errol Lawson was awarded a coveted "Local Hero" award for his contribution made to the lives of people within the UK by the association of Jamaican nationals. (AJN). In October 2015 Errol was awarded "Young male entrepreneur of the year" by BEX Live. In 2016 he was a finalist in the Birmingham Young Professional of the year awards. In 2017 he was awarded the World Civility Award by Dr Clyde Rivers of 'I – Change Nations'. In 2018 Errol was also shortlisted by Natwest bank as "Entrepreneur Champion of the year". In 2018 Errol was named in the Birmingham Post 'Power 250' list as one of the most powerful and influential leaders in the West Midlands.
At age 16, homeless, strung out on weed and involved with street gangs, he was at crisis point with seemingly no way out in life, teachers did not recognise the true potential of little Errol Lawson. However, he used determination, persistence and belief in his ability to go beyond being a street hustler to unleash a course of amazing achievements including being the best selling author of three books, TV show host, Entrepreneur and Church pastor.
Errol Lawson is committed to motivating and training today's generation to be achievers and leaders as he introduces new audiences every day to "Lifting the lid on what you think is possible".
In school and in business, as in real life there are always going to be ups and downs. However, where there is a will, there is always a way to achieve amazing results for your clients when Errol Lawson fills the room with his high-impact, customised message and standing ovation performance!

About The Event

The Pathway2Grow "Coffee and Natter" business networking event is relaxed networking centred around a guest speaker, which will involve a presentation on a topic of interest to anyone seeking self-development and personal and business growth. Attendees are given the option of introducing themselves with a one minute intro to the rest of the floor; however, there is absolutely no pressure to do so!
We believe we provide a no pressure environment. If you wish to network that's fine, but if not then come and listen to the speakers. We believe we are an event for non-traditional networkers as well as experienced networkers.
We believe in building an online and an offline community and there are plenty of ongoing opportunities to converse and share with a WhatsApp group (send a message to 07958 930 844 to join), Facebook Group and also on LinkedIn as well as our monthly meets:
https://www.facebook.com/pathway2grow/
https://www.facebook.com/groups/coffeeandnatter/
https://www.linkedin.com/groups/8243224/

So come and join us to #Network, #Learn & #Grow!
Parking Information:
Limited free parking on site and various free parking on surrounding roads. Contact us if you need to book disabled parking.

Regards

Your hosts


Jaz Greer, Regional Director for Pathway2Grow, Derby @JazGreer

Kasim Choudhry - National Director for Pathway2Grow @choudhry_kasim
and
Safaraz (Saf) - Founder of Pathway2Grow @SafarazAli


P.S. Follow Us on @Pathway2Grow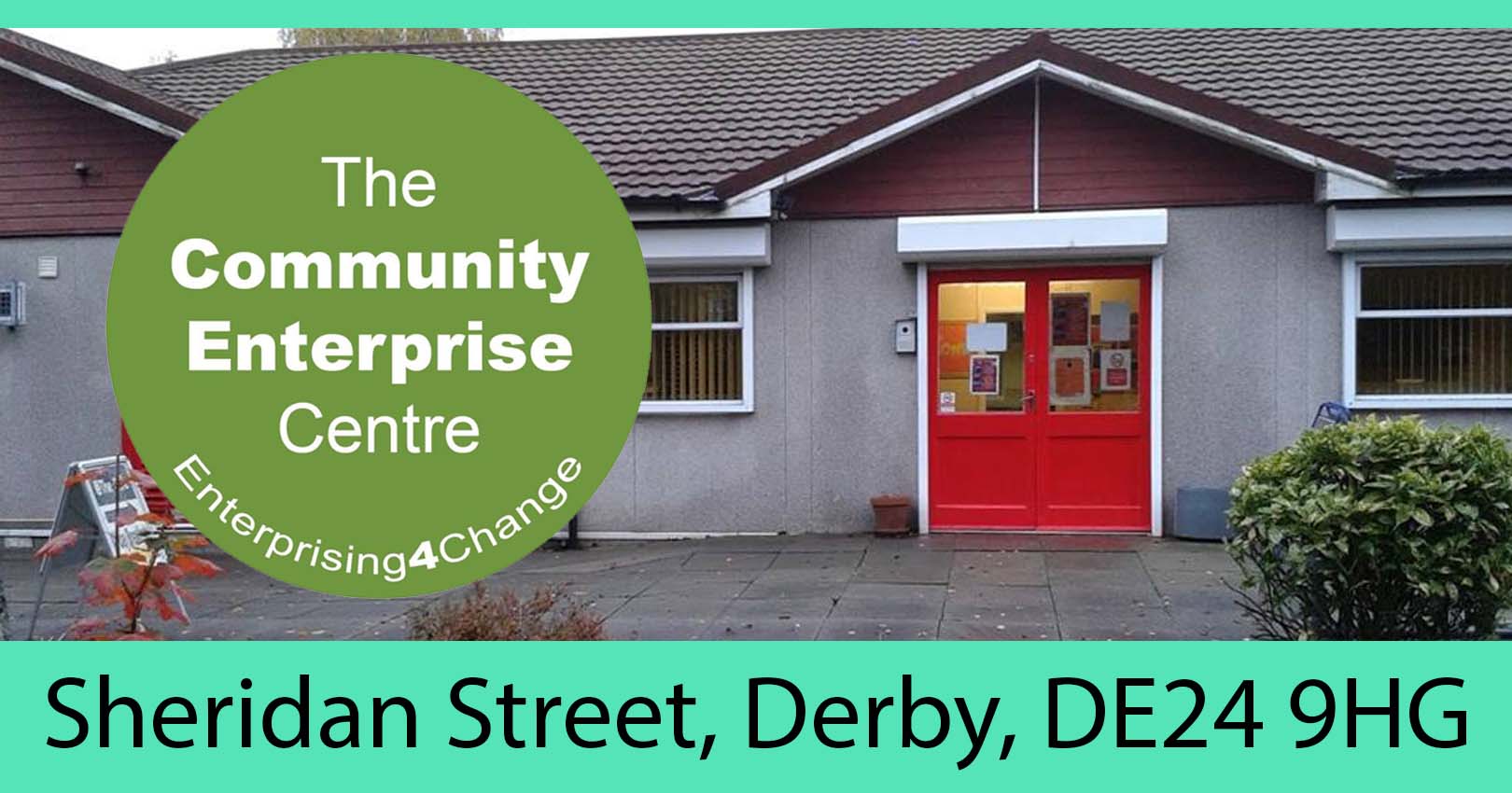 Hosted at The Community Enterprise Centre

For the past 25 years, The Community Enterprise Centre has been serving the people of Derby in the areas of skills and enterprise development, with tens of thousands of people benefiting from these services.