Where the creative community figure out what's next. Design Club Talks brings together the best speakers and creatives from all fields.
About this event
Where the creative community figure out what's next.Design Club brings together designers of all disciplines and experience for drinks, good times, and original talks from leaders in our field. Speakers are urged to share candidly about their work, careers, and distinct perspectives on the industry. Events are free, and held in great locations around East London.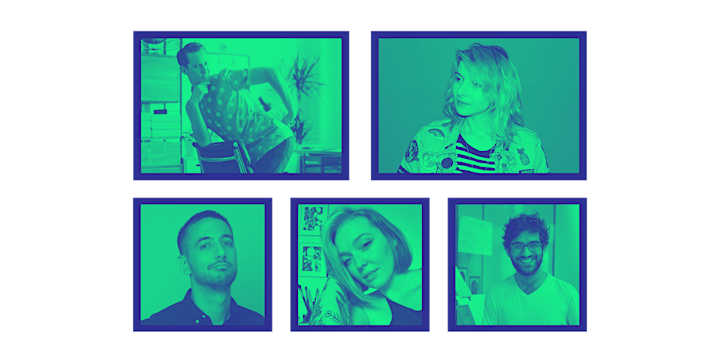 The Speakers
For the first Talks event of 2021, we've managed to secure a stellar lineup of artists, designers and magicians (literally), for a jam-packed evening of talks. We have two amazing headliners, Mr Bingo and Eriol Fox, and three stellar lightning speakers, who will give quick-fire 10 minute talks each. Without further ado, let's introduce the speakers:
Mr Bingo
Mr Bingo was born in 1979. In 1980 he started drawing. There wasn't a lot to do in Kent. Mr Bingo is called Mr Bingo because when he was 19 he won £141 at the Gala Bingo. He's been making it rain ever since.
For those who don't know Mr Bingo, he was a commercial illustrator for 15 years, working with the top brands around the world. In 2015 he launched a Kickstarter to fund a book about his Hate Mail project, which saw him send offensive postcards to random people in return for money. The Kickstarter was not only a major success (reaching almost 400% of the funding goal), but had some of the best rewards I've ever seen including being trolled, having your washing up done, going on a date in Wetherspoons, being told to fuck off on Christmas Day and getting shitfaced on a train.
He decided around this period to never work for clients ever again and focus on being some sort of artist which he's done ever since.
Eriol Fox
Eriol is a Design Lead who has worked in-house for 9+ years. Eriol now runs Humanitarian.design human rights-focused and humanitarian design consultancy. Before that, they worked at Ushahidi, a non-profit developing open-source, digital tools to help people with democratic processes, human rights, and crises like typhoons, earthquakes and terrorism.
Eriol is a non - binary, queer person who uses they / them pronouns and an LGBTQIA + advocate.They are deeply passionate about intersectional inclusion and promoting healthy attitudes towards mental health in the tech sector.
Caitlin Goodale
Caitlin is the Head of UX at Drest (though she likes to think of herself as more of an Experience Sommelier.) The world's first luxury fashion styling game, her team sit between the worlds of e-commerce, luxury couture and gameplay, crafting a player experience that is both beautiful and useable. Caitlin herself has worked on everything from Paint3D and Hololens at Microsoft, to Minecraft's console editions, and is passionate about the intersection between game design, and product design and making games everyone loves to play.
Jules Mahé
Jules is an Paris-based experience designer in the field of design industrialisation. He has worked in agencies where he has set up numerous design systems for different clients. He also works in schools to guide students and teach them about current design issues. He is now a Design Advocate at zeroheight to help the design community create a better future for design.
Paavan Buddhdev
Paavan is a digital product designer at the fast-growing agency AND Digital. In his spare time he performs professionally as a magician, is working towards an Art History MA, and looks after a multitudinous amount of plants.
The Sponsor
Design Club Talks #11 are sponsored by the awesome designops company zeroheight. You can find out more about what they do here, find out what jobs they have available right now, or have a read of their blog.
Design System folks - they are currently running a survey for design system documentation, which will be put into a big industry report at the end of the year. The survey closes on 29th October, so spend 15 minutes filling it in for them if this is you!
The Venue
Design Club Talks #11 will be taking place at Second Home Spitalfields, 68 Hanbury St E1 5LP, home of our lovely sponsor zeroheight. The venue is accessible, dog friendly and has gender-neutral bathrooms. We'll have some drinks, courtesy of the sponsor, and there'll be a bit of time afterwards to mill about and chat. If you have any questions about the venue, or have mobility issues, please drop Luke a line @lurkmoophy or luke@zeroheight.com
COVID Information: To keep everyone safe and sound, we ask everyone to do a lateral flow test before coming along the event. If you're feeling ill, please stay at home.
-----
All Design Club events are safe space events. Design Club is dedicated to providing a harassment-free conference experience for everyone, regardless of gender, gender identity and expression, age, sexual orientation, disability, physical appearance, body size, race, ethnicity, religion (or lack thereof), or technology choices. We do not tolerate harassment in any form. Sexual language and imagery is not appropriate for any conference venue, including talks, workshops, parties, Twitter and other online media. Design Club participants violating these rules may be sanctioned or expelled from the event at the discretion of the conference organisers.
If you are being harassed, notice that someone else is being harassed, or have any other concerns, please contact a member of Design Club staff, who will make themselves known on the night, or contact Luke on 07512336722.