Description
Virtual reality became domesticated last year — at least in the US — when the VR viewer Google Cardboard arrived for the first time with the Sunday New York Times. Today, you could use it to explore Pluto's frigid heart or climb to the top of 1 World Trade Center in downtown Manhattan.
As thrilling and immersive as these experiences are, they are just a playful precursor of what's coming. Companies such as GE are exploring how virtual reality can help doctors to see the body in new ways, with technologies that can transform medical imaging into interactive 3D programs.
Attend this session to discuss the potential applications of design, open innovation and virtual reality to healthcare and experience first hand a walk on the human body.
SPEAKER:
François Lenfant, General Manager, Healthcare Experience, Global Design at GE Healthcare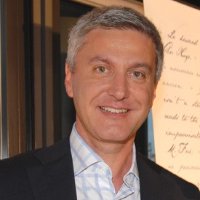 Biography: https://fr.linkedin.com/in/francois-lenfant-2b21b37
***We recommend that you arrive half an hour early***