A 2-day, hands-on workshop designed to help you practice the tools & techniques within the Design Sprint framework.
About this event
Have you heard about Design Sprints? Since the Google Ventures Sprint book came out in 2016, Design Sprints have been adopted globally by companies as a tool for innovation and problem-solving.
A design sprint is a method used for solving problems through ideation, prototyping, and testing ideas with specifically targeted customers.
Due to their extensive experience in running sprints all over the globe, Design Sprint Academy has re-engineered the process into an improved version - Design Sprint 3.0. For a deep dive into the mechanics behind Design Sprint 3.0 read this article on Medium.
This workshop is not for those wanting to sit back and just listen to the theory. You need to come prepared to work hard in an intense, time-constrained, and collaborative setting. You will be assigned as a member in a Design Sprint team and you will experience the entire process, going through all the five stages of the process, from Understanding, to Sketching & Deciding, Prototyping and then Testing.
This workshop is for you if you are:
• Interested in experience the design sprint process on your own skin, as a member of a design sprint team
• Struggling to build better products or processes, and faster
• Struggling to get team alignment.
• Wanting to understand your customers - knowing the difference between what they say they want and what they actually buy.
• Looking for new ways to speed up the timely and costly process for product and service development.
• Tired of investing your marketing budgets in products that are 'DOA' and don't have a market fit - no longer waste money and time invested in building something consumers aren't going to buy or use
Or have one of the following titles/roles:
• Innovation Manager
• Manager of Excellence
• Lean Manufacturing Manager
• R&D Manager
• General Manager
• Product Manager
• Executives at large companies
• Department manager
• Startup founder
• UX Lead
• UX/UI Designer
• Dev Lead
• Engineer
• Marketer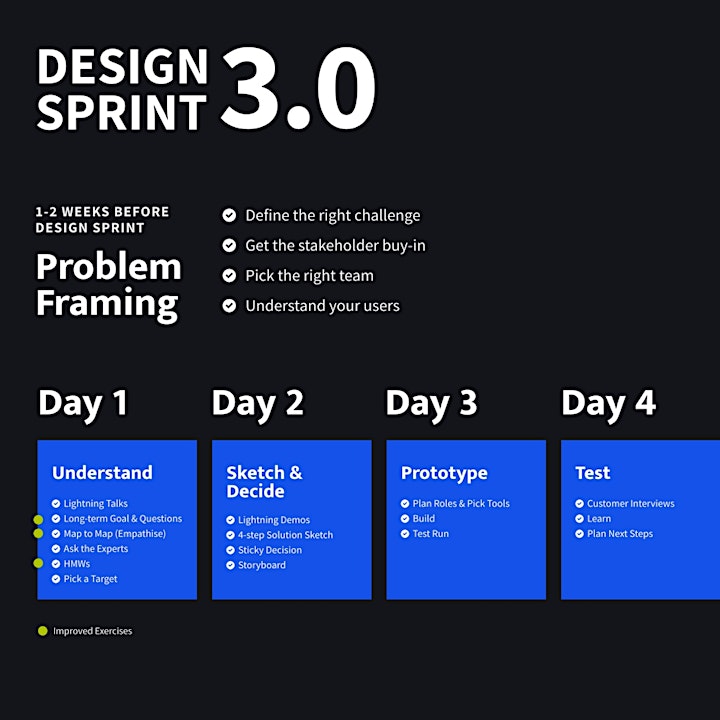 By the end of the 2-day training, you'll be able to:
· Have the tools needed to understand and empathize with your user.
· Learn how to build a Customer Journey Map.
· Be initiated in ideation and solution sketching.
· Learn how to storyboard as a group.
· Experience prototyping best practices.
· Learn how to make sense of customer testing insights.
· Basically, compile solutions, build, and test a functional prototype.
About organisers
Member of AIMS International network, AIMS International Romania (Timisoara office) is one of the pioneers in HR & business consulting in Romania, with more than 25 years of experience on the local market and a history of doing things differently, a history of innovation and experimentation in helping hundreds of businesses (both multinationals and Romanians) and thousands of individuals to flourish.
Consequently, our long term goal is to create together with our clients, ''the organization of the future'': human-centered, innovative, emotionally intelligent, flexible, transparent, productive, engaging and collaborative.
Customized Trainings and Workshops, Vision and Strategy Consultancy, Leadership Development programs, Solution Focused Coaching Services, HR Processes Consultancy are just a few of the services offered to the market.
To reach our long term goal, we continuously look for new ways of work and we are thrilled to have found the perfect intersection between quick results and care for people, between company and customer needs, between individual and teamwork. This is the #DesignSprint – a concept currently being adopted around the world by companies from the most diverse industries.
Therefore, starting with June 2019, and due to extensive preparation, AIMS International Romania, Timisoara office, has become Design Sprint Academy's exclusive partner for the Romania market.
Design Sprint Academy is worldwide recognized for the substantial improvements to the initial method, first launched by Google Ventures. Their Design Sprint journey started in late 2015 before the Google Ventures book 'Sprint' was published. Since then they've run dozens of design sprints for a variety of companies, from Fortune 500 companies to startups, including training Google in San Francisco.
This event is organized by AIMS Timisoara in collaboration with Design Sprint Academy.
Trainers:
Ionut (John) Vetan
Design Sprint Academy
John Vetan is the founder and CEO of Design Sprint Academy, one of the leading Design Sprint companies in the world. With over 15 years of experience in building digital products, innovation and transformation, John is helping organizations all over the globe adopt and scale Design Sprints as an effective way to innovate. As a strategist, coach and trainer, John is passionate about advising leaders and guiding teams towards impactful outcomes.
Codruta Lucuta
AIMS & Design Sprint Academy
Senior trainer and consultant, with more than 15 years of experience in soft skills training, over the last 2 years, Codruta has split her professional life between both companies – AIMS and Design Sprint Academy. Codruta has fallen in love with the Design Sprints once she understood that Empathy is one of its core values. Her role in Design Sprint Academy is to train future DS facilitators and as a trainer in dozens Design Sprint bootcamps, she has gained experience in working with DS facilitators from all over the globe.
FAQs
1. Will there be refreshments, lunch?Yes, refreshments and lunch are included.
2. Are the tickets transferable?Yes. If you need to request a ticket transfer, please email codruta.lucuta@tm.aims.ro. But! All requests must be made 72 hours before the event.
3. Should I come as an individual or as a team?Both individuals and company teams are encouraged to attend. But to clarify, you don't get to be a loner at the workshop. Individuals will work together with a team of people from different companies. This workshop will be valuable for both individuals and groups.
4. Are there any team discounts?Yes, there are team discounts. Companies sending more than two people qualify for team discounts. Just get in touch at codruta.lucuta@tm.aims.ro and let us know.
5. Can I get an invoice?
Yes, for any request regarding contracts, Process Orders or Invoices, please get in touch at codruta.lucuta@tm.aims.ro and let us know.