Event Information
Refund Policy
Refunds up to 7 days before event
A 2-day live online training in which you'll learn and experience - first hand - the design sprint 3.0 process.
About this Event
This course is for you if you ...
Look for new ways to speed up your go-to-market
Need a quick way to test new business ideas
Want to break the silos and align your team
Try to understand your customers and build solutions they'll want
Must de-risk projects before investing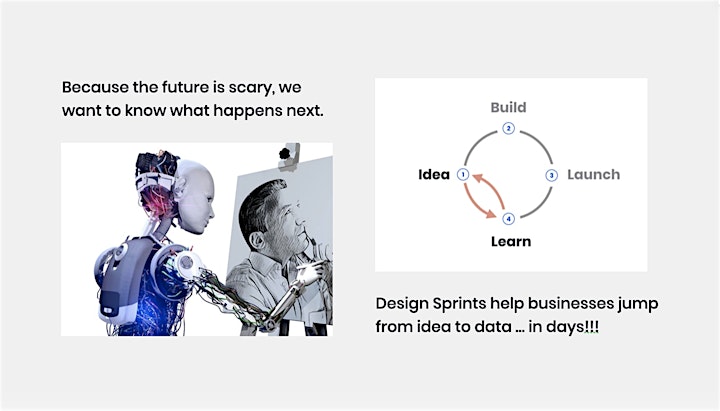 So, what is a Design Sprint?
A design sprint is a design thinking method used for solving big problems through ideation, rapid prototyping, and testing ideas with target customers.
Developed at Google and popularized by Jake Knapp, design sprints are now being adopted by companies, big or small, and from all over the world and within all different industries – from insurance and banking to entertainment.
How it works
With a small, cross-functional team and a clear schedule for the week, you'll progress from a problem to a tested solution in only a few days.
On Day 1, the team understands the problem and defines the direction of the sprint.
On Day 2, each individual sketches their unique solution.
On Day 3, the team reviews all solutions and decides which concepts are the strongest.
On Day 4, the entire team builds a realistic prototype by working together and playing different roles.
And finally, on Day 5, the team tests the prototype with five target customers and looks for reactions, comments, questions, moments of truth.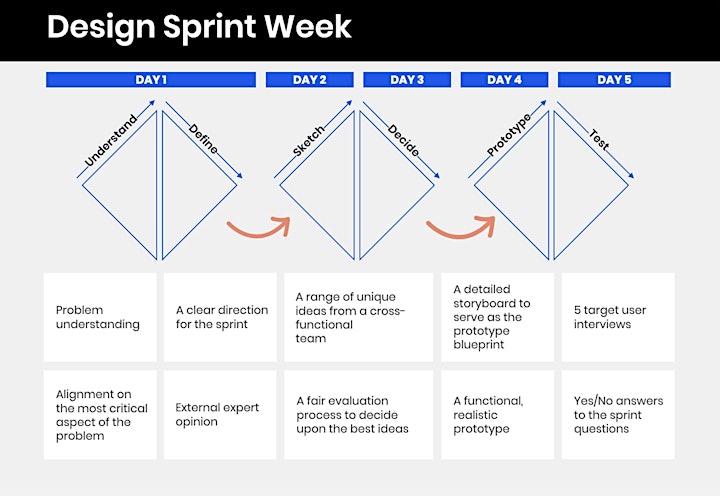 Why our design sprint training yields better results
Launched in 2016, our design sprint training is one of its kind, based on years of training and facilitating design sprints around the world.
Not only you'll learn the design sprint process but you'll get a chance to experience one too. Also, you'll hear first-hand takeaways (and potential pitfalls) from design sprints we've run with our clients that showcase the fact that we're only teaching strategy and methods that are proven to lead our customers to success.
We've been travelling the world and training professionals across all industries for the past 4 years. And, here's what they have to say about their experience with us:
What you'll learn?
🎩 From the sprint team member perspective:
How to build empathy with your customers.
How to make the best of visual maps.
How to evaluate ideas fairly and pick the best concepts.
How to storyboard as a group.
How to make sense of customer testing insights.
🎩 From the facilitator perspective:
How to onboard and engage your sprint team
How to guide the team through all 6 phases of a design sprint
How to spark collaboration and design the conversation so that everyone's voice is being heard
How to make the best of Mural and facilitate with confidence
How can you make the best of this knowledge and newly acquired skills?
So your design sprint training is over and you've learned a lot. But how can you be confident that you can replicate results consistently and to a high standard after this course? And what happens when new team members join your team?


To support you, our course comes with a comprehensive Remote Sprint Kit. From your digital boards (designed both in Mural and Miro), daily agendas and sprint brief templates to checklists, onboarding guides and interview scripts for user testing, we give you everything you need. Perfect for distributed teams.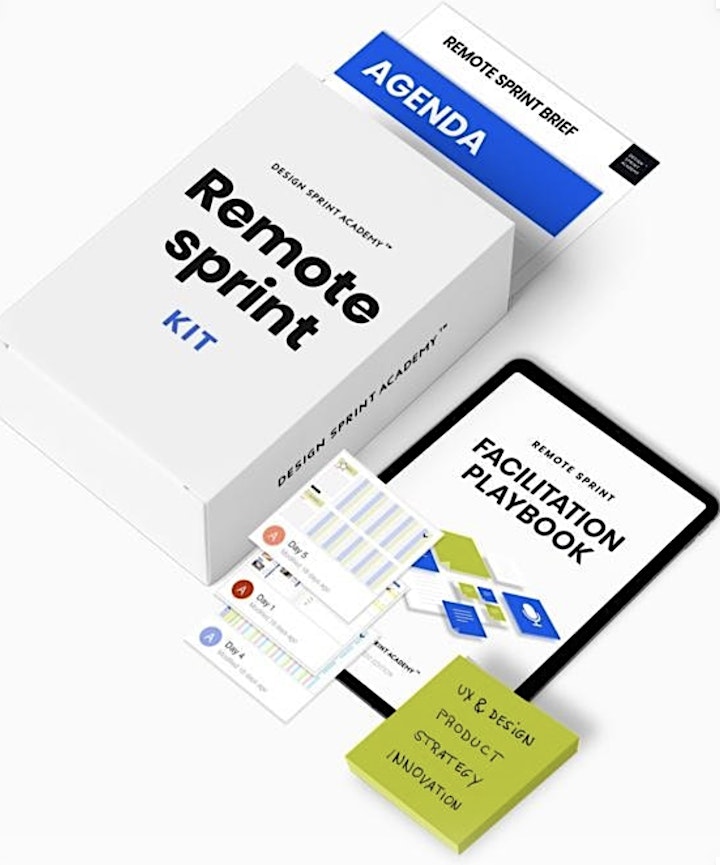 To date, we've run over a dozen design sprints with our clients using the Remote Sprint Kit and here's what they have to say about their online design sprint experience.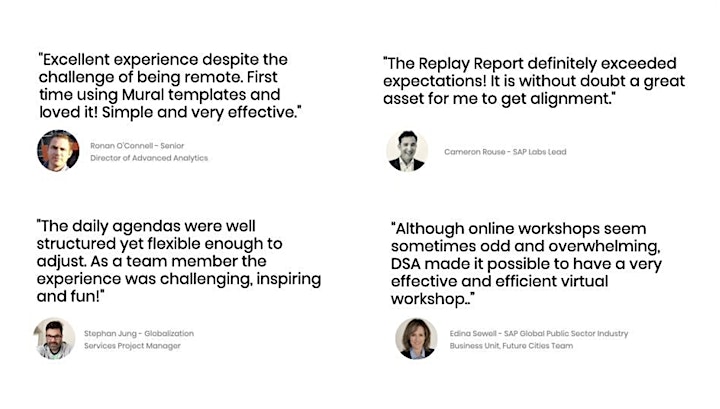 Duration & Agenda
Day 1 / 6-hour training (ET time, delivered in English)
Experience the design sprint as a team member
10:00 - 13:00 Online Session
13:00-14:00 Lunch Break
14:00 - 17:00 Online Session
Day 2 / 6-hour training (ET time, delivered in English)
Experience the design sprint as a Facilitator
10:00 - 13:00 Online Session
13:00-14:00 Lunch Break
14:00 - 17:00 Online Session
Can I pay by invoice?
Yes. Please email us at start@designsprint.academy your company details, and we will issue an invoice.
Are the tickets transferable?
Yes. If you need to request a ticket transfer, please email start@designsprint.academy. But! All requests must be made 72 hours prior to the event.
Date and Time
Location
Refund Policy
Refunds up to 7 days before event