About this Event
We've done this stuff ourselves for a long time now, as well as running agencies and building in house multi-disciplinary teams, and we know that it's best to learn by doing. Train with us in a condensed Design Sprint to learn everything you need to know - how, when and why its useful, how to get your people on board, and how to run them successfully.
You'll learn:
The purpose of every step
Why the exercises are the way they are (so that you know what / how / when to customise)
How it feels to take part
How it feels to facilitate
And answering the most commonly asked questions, for example:
What a Sprint challenge looks like
How to get the team to understand what to prototype and what not to
In-sprint user research techniques - asking good questions and the power of saying nothing - and what to do when you think you'll struggle to find participants
What to do if you're sceptical anyone has any user insights to start with!
What the difference is between the marketed "Design Sprints" out there 1.0, 2.0, 3.0 and what actually matters
TESTIMONIALS
-
"If you're unsure about the suitability of running Design Sprints in your business, don't be. Calum and Penny will transform novices into experts in a few days and you'll have a lot of fun in the process."
SCOTT, CEO
-
"Jam packed with everything I need to know to run my own design sprint, within my company. It is fast paced, but Penny and Calum did a great job of packaging 4 days of activities, into 2 days, without losing any of the key detail along the way."
NICK, LEAD UX
-
"The course demonstrated the key phases of the design sprint allowing you to learn by working through the stages. Planning a design sprint will be much easier given the experience I gained."
CHRIS, AGILE COACH
-
Who should attend
Anyone who wants to build better solutions, experiences, products and services faster. Particularly:
Startup founders and owners
Innovators / entrepreneurs
Large company executives
Product owners / managers
Team leaders
Engineers / developers
Designers / creatives
Marketers
Agile coaches / scrummasters
We're here to help people who've heard of or read about Design Sprint and now want to learn more. To make sense of all the buzzwords, understand what it looks and feels like, get first-hand experience of the entire framework and every exercise in it, so that you can feel confident to go back to the office and run one yourself!
What you get
2 days of hands-on practical workshops facilitated by Calum Pringle and Penny Andrews from People Make Ltd:
Day 1
An overview of the entire sprint process, what it is and when to use it
How to lead a team through the Design Sprint process with confidence
How to prepare for a Design Sprint
How to identify crucial business and product questions to be answered in your sprint
Hands on sprint exercises taking it in turns facilitating and making - everything from expert interviews to creating a map of your users journey, sketching solutions and creating storyboards
Facilitation tips and pitfalls!
Day 2
Showcase of the tools and techniques we use to create prototypes to test hypotheses (before you invest months lots of time and money!)
How to choose the right approach to create your prototype
How to run a user interview to validate and iterate on your prototype
How to quickly figure out what you've learned and what you should do next
Hands on sprint exercises preparing a backlog, making a small prototype and carrying out a user interview
How to explain to your colleagues and businesses why it's worth doing
A custom toolkit (it's the one we use too) that ensures it is possible to start using the approach straight away, running design sprints with your team / in your own organisation.
Checklists and guidelines for planning and running the sprint
The facilitator slide deck with everything you need to run your sprint, personalised with examples and photographs from your training workshop so it is grounded in your own experience
Templates e.g. discussion guide and sprint report
No preparation required
Nothing. You don't even need to have read the book (Sprint: How to Solve Big Problems and Test New Ideas in Just Five Days, by Jake Knapp et al.) to get value out of this training. If you have read the book, the hands-on experience you'll gain from this workshop is invaluable, and you'll also learn how we (and others) have iterated upon and improved the process since the book so that you can decide for yourself how you will run yours.
The group size
With a maximum group size of 10, we ensure everyone participates fully and gets the best possible value from the course.
What the ticket price includes
2 days facilitated workshops by Calum Pringle and Penny Andrews
The Toolkit
Breakfast, lunch, snacks, tea, coffee and chilled beverages provided for both days
All the stationary and supplies you'll need to take notes, map out ideas, and create and validate prototypes during the workshop!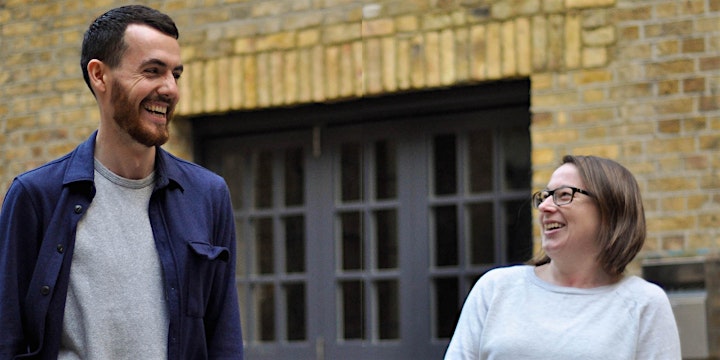 About us
Together we've run 100's of workshops (including design sprints) applying agile, lean, design thinking and user centred design principles while building digital products and services for ourselves and for our clients.
Penny Andrews
I am a product focussed agile delivery specialist. I have successfully delivered hundreds of products to market (with happy clients!) whilst running, growing and selling several businesses. My super power is curating and facilitating collaborative and creative, high performing teams and defining ways of working.
Calum Pringle
I am a UX and Product Strategist and have been applying design thinking to technology and other new stuff for 10 years. Befriending businesses, developing new business models and testing thousands of ideas with surgeons, psychiatrists, insurers, tech geeks and technophobes. An Agile advocate, I wanted to be an actor but run Design Sprints instead.