Description
Design and Marketing Workshop: Can I do this in-house or do I need to outsource?
As a small business or start-up you probably struggle to produce high-quality marketing material within a tight budget. If you've ever wondered about the skills that are needed to do it yourself, then this is the workshop for you. Learn what's involved in creating great-looking branding, running a marketing campaign, and designing adverts, banners and websites.

You will walk away with a clear overview of the software packages used by graphic designers and web developers, and the level of proficiency needed to create the materials you need. At the end of the session there will also be a Q&A to answer all your design and marketing related questions.

About the Speaker
Deborah Gruenberger is a graphic designer, lecturer and creative software trainer with 18+ years' experience. She studied at New York's Fashion Institute of Technology and went on to freelance for NY based companies, including Reebok Sports Club, Rolling Stone magazine, American Express, the NFL and many more.

After moving to London in 2001, she started Thinking Made Visual, where she creates corporate identities and marketing material for SMEs in a range of sectors. She also trains start-ups and corporates on the latest design software programmes. Deborah has an in-depth understanding of the many challenges new businesses face, and created Training Made Visual to help these organisations empower themselves to create and manage their own marketing campaigns.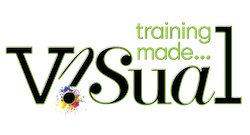 Please arrive at 6pm for a prompt start at 6.30pm.
For any questions, please e-mail community@hubwestminster.net.