Designer athletes: fair play or foul? (London)

Monday, 19 March 2012 from 19:30 to 21:00 (GMT)
Event Details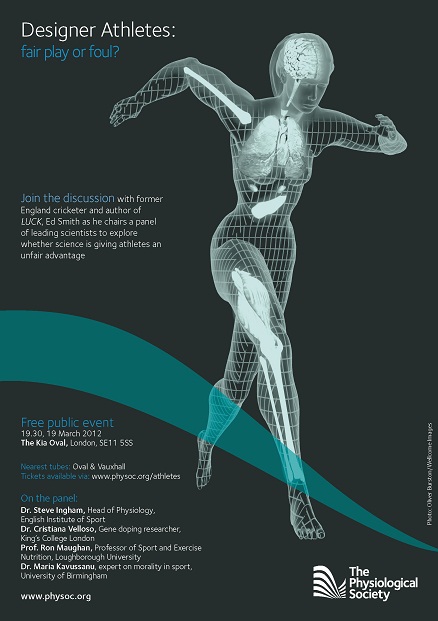 Imagine the sporting champions of the future: humans so enhanced by pharmaceuticals and genetic manipulation that they smash the world records we consider impressive today.
It sounds far-fetched, but developments in science and technology mean it could become a reality. This event explores the research that is taking place now that could produce the "designer athletes" of tomorrow. We will offer a glimpse of the future and ask: should our sporting champions rely on their natural ability, or be allowed to embrace pharmacological enhancements and alter their genes to improve their body's functioning?
We will also explore the fine line between "doping" and natural enhancement through training that exists today.  We are already seeing athletes living and training at altitude to increase how much oxygen their blood can carry, so should the drug that mimics this effect – EPO – still be banned in professional sports? Where do we draw the line?
The Physiological Society invites you to discuss these controversial questions and the science behind them with Steve Ingham, Head of Physiology at the English Institute of Sport; gene doping researcher Cristiana Velloso from King's College London; Ron Maughan, Professor of Sport and Exercise Nutrition at Loughborough University and University of Birmingham's Maria Kavussanu, one of the world's experts on morality in sport.
The event is chaired by former England cricketer and journalist, Ed Smith. Ed is the author of What Sport Tells Us About Life and Luck (published March 2012) which traces the history of the concepts of luck and fortune, destiny and fate, from the ancient Greeks to the present day.
Tell us what shape you think our future sporting champions should be in.
When & Where

The Kia Oval
The Surrey County Cricket Club
Kennington
SE11 5SS London
United Kingdom


Monday, 19 March 2012 from 19:30 to 21:00 (GMT)
Add to my calendar
Organiser
The Physiological Society brings together over 3000 scientists from over 60 countries. Since its foundation in 1876, its Members have made significant contributions to our knowledge of biological systems and the treatment of disease.
We promote physiology and support those working in the field by organising world-class scientific meetings, offering grants for research, collaboration and international travel, and by publishing the latest developments in its two leading scientific journals, The Journal of Physiology and Experimental Physiology.
The Society also runs events for the general public on how physiology relates to everyday life, and for students who may be considering physiology as a career.