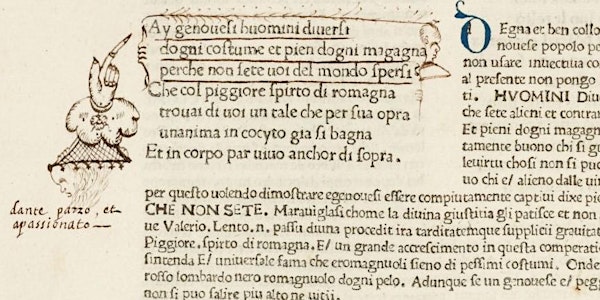 Designing Dante: An Exhibition Tour with Dr Guyda Armstrong
Location
The John Rylands Research Institute and Library
150 Deansgate
Manchester
M3 3EH
United Kingdom
A guided exhibition tour through one of the finest Dante collections in the world, led by University lecturer Dr Guyda Armstrong
About this event
Would you like to learn more about book design and see some of the finest books from the John Rylands Research Institute and Library Special Collections?
The Italian medieval author Dante Alighieri (1265-1321) is known for his fantastical reimagining of the worlds of the Christian afterlife, the Commedia (Divine Comedy). In this poem, Dante tours the three realms of the afterlife, Hell, Purgatory and Heaven, where his hyper-real and multi-sensory accounts of the afterlife evoke the torments of the damned and the rapture of the blessed.
The Commedia quickly became hugely popular and has been re-made and re-imagined over the centuries since it was first written. This exhibition explores both Dante's design of his afterlife, and the ways the poem itself has been designed and presented in manuscript, print, visual images, and sound in the 700 years since his death.
To help interpret and provide further information on the exhibition, we are excited to welcome key exhibition contributor Dr Guyda Armstrong to the Rylands, for an in-depth tour touching on page design and the physical technology used to produce the items on display.
Dr Guyda Armstrong is a Senior Lecturer in Italian Studies at the University of Manchester, with an extensive background in History of the Book and Digital Humanities. She is now Scientific and Digital Lead for the John Rylands Research Institute and Library. As someone with an intimate familiarity with the history of printing and book production, Guyda's tour will be an engrossing deep-dive into one of the richest Dante collections in the world.