Designing Participation: Current approaches and future directions
Description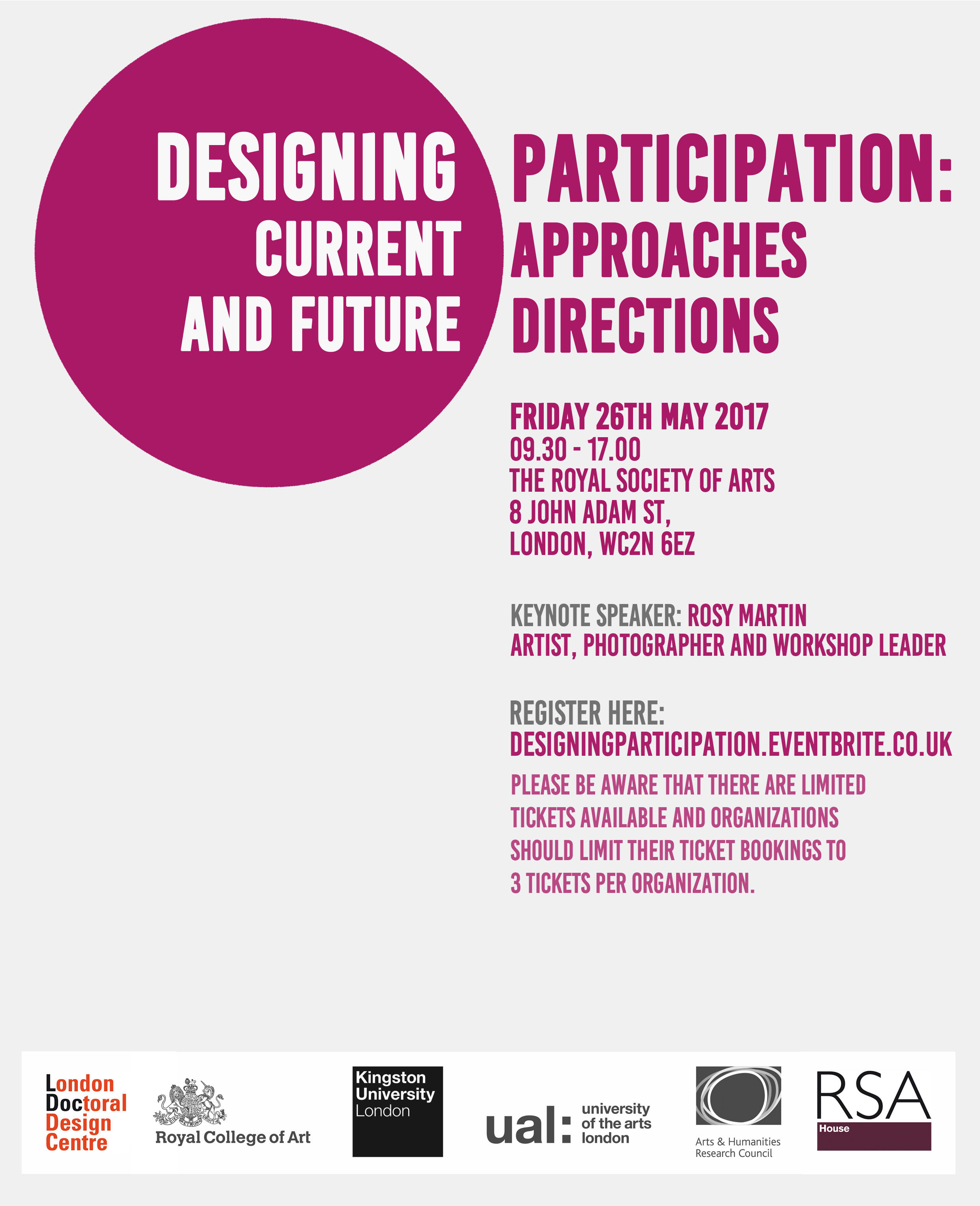 Speakers confirmed:
Rosy Martin, artist, photographer, psychological therapist and workshop leader.
Access All Areas' Cian Binchy, writer and author.
Researchers organising the conference: Jack Champ, Julia Johnson, William Renel.
The Designing Participation conference provides the opportunity for participatory arts companies to share best practice and evaluation techniques, and to consider the benefits and challenges of designing and delivering participatory arts programmes and projects. These objectives will be met throughout the day via a series of lively, fun and thought-provoking workshops.
In 2010, Arts Council England (ACE) produced a review titled Adult Participatory Arts: Thinking it Through that showcased the best practice of thirteen participatory arts companies working in the UK. The Designing Participation conference - organised on behalf of London Doctoral Design Centre (LDoc) - aims to follow up on two key recommendations included in this review:
"That the 13 companies share expertise and intelligence on their work within the charitable and third sectors and disseminate this to a wider audience''

''That an evidence base for participatory work is developed, to be shared between the 13 review companies, similar arts organisations and Arts Council England, so that they can respond more easily to government policies and targets''
The review advocates ''a shared approach to evaluation'', a recommendation valued by the three LDoc researchers involved in organising Designing Participation, and a third objective for the conference.
The event outcomes will contribute to the growing participatory arts evidence-base in the following ways:
The event extends the sharing of knowledge and best practice to include researchers across London Doctoral Design Centre, Royal College of Art, University of the Arts London and Kingston University.

The event will be recorded and featured online for interested charitable third sectors to view.

The summary produced after the event will feature online and will be disseminated to Arts Council England, Arts and Humanities Research Council and other notable organisations.
Conference schedule
Morning
9.30am: arrival. Coffee and pastries.
10.00am: researcher, Julia Johnson, introduces the conference and her research area.
10.40am - 12.15pm: presentations by Rosy Martin and one other keynote speaker practicing in participatory arts programmes. A question & answer session will follow.
Lunch will be provided.
Afternoon
During a series of afternoon workshops, developed in company groups and mixed groups, we will share our knowledge and experiences and consider and respond to the following questions.
1.00pm: in company groups
What are the:
Benefits of delivering participatory arts programmes to the communities involved?

Challenges with delivering effective participatory arts programmes and projects?

Most effective types of methodologies to deliver participatory arts programmes and projects?
2.15pm: in mixed groups
What kind of evaluation techniques:
Provide a genuine understanding of participants' experiences on programme?

Support the improvement of participatory programmes and projects?
3.00pm: refreshment break.
3.15pm: in mixed groups
What future opportunities and directions have the potential to inform the effective design and delivery of participatory arts programmes?

Our collective manifesto for future participation: What two main points should be taken forward?
Please join us at the Royal Society of Arts at 9.30am on Friday 26th May.
Please note: any dietary or access requirements must be emailed to Julia at designparticipate@gmail.com by 19th May 2017.