Desperate times and desperate measures - a talk by Heather Mattila
How honeybees defend themselves against attack by giant asian hornets
About this event
Cambridgeshire Beekeepers' Association are delighted to welcome Professor Heather Mattila to discuss her latest research on how honey bees in South East Asia have developed strategies to protect their abundant stockpiles of food and the large colonies they sustain. In Asia, honey bees have evolved under tremendous predatory pressure from social wasps in the genus Vespa, the most formidable of which are the giant hornets that attack colonies in groups, kill adult defenders, and prey on brood. Her study describes a remarkable weapon in the already sophisticated portfolio of defenses that honey bees have developed in response to the predatory threats they face. It also highlights the strong selective pressure honey bees will encounter if giant hornets, recently detected in western North America, become established.
https://www.theguardian.com/environment/2020/dec/09/honey-bees-use-animal-poo-to-repel-giant-hornet-attacks?CMP=Share_iOSApp_Other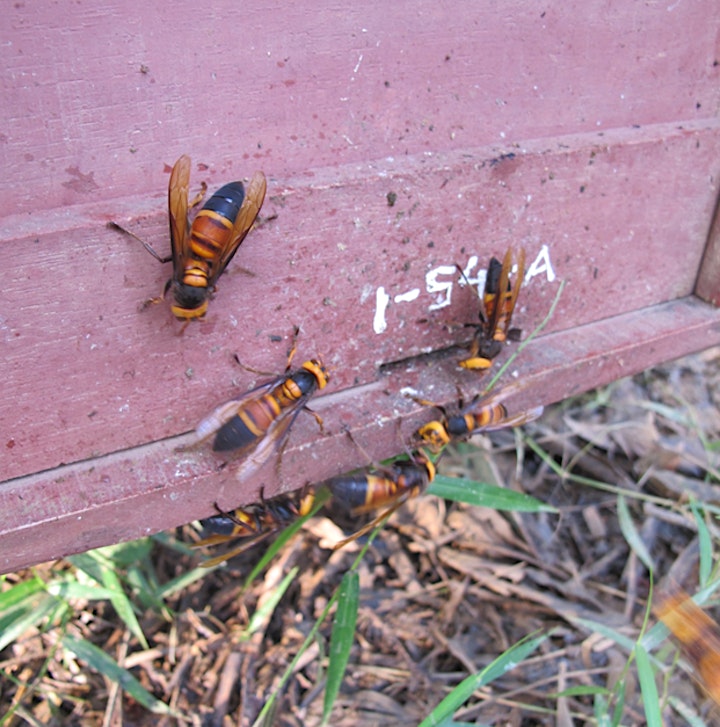 About the speaker
Heather Mattila is an Associate Professor of Biological Sciences at Wellesley College, a women's liberal arts college that is located just outside of Boston (USA). She completed her Ph.D. in 2005 at the University of Guelph (Canada), where her research focused on the effects of nutritional stress on colony health and productivity. She subsequently completed a four-year postdoctoral fellowship at Cornell University (USA), where her research shifted to an examination of the mating behavior by honey bee queens and its impact on the colonies that they produce. Heather has been a professor in the Department of Biological Sciences at Wellesley College since 2009. At Wellesley, her research continues to focus on mechanisms of social communication and organization, including honey bee behavior, the chemical ecology of colonies, the microbiology of queens and workers, and the impact of nutritional stress on workers. Recently, her research program has expanded to examine these topics in bumblebees, Asian honey bees, and hornets. Heather teaches undergraduate classes at Wellesley College on the subjects of organismal biology, animal behavior, and social insect biology. In addition to teaching at the College, she is honored to receive opportunities to speak with beekeepers and other people around the world who are interested in learning about how to support the health and welfare of bees. Heather's research program is supported by a dedicated group of Wellesley students, collaborations with colleagues from universities across North America, and by the many colonies of bees that her lab maintains on the Wellesley College campus
Organiser of Desperate times and desperate measures - a talk by Heather Mattila
WELCOME TO CAMBRIDGESHIRE BEEKEEPER'S ASSOCIATION
We are a volunteer-run members' organisation and Registered Charity that represents the interests of beekeepers in the county of cambridgeshire. We educate, advise and bring together more than 500 beekeepers and raise awareness of issues affecting honeybees.