In collaboration with Tata Consultancy Services, this masterclass series has been designed to help you design a successful digital strategy
About this event
Nervous to invest your hard earned money in tech? Our expert speaker will help you confidently take that first leap in making a business case for your digital strategy. This session will help you:
Learn how to justify your tech spend
Analyse costs vs benefits (including hidden costs!)
Understand the risks
About this series
This event is part of a 4-part series of masterclasses created to help you design a successful digital strategy for your business. Each event is equally as valuable on its own, however we recommend attending all sessions to get the most out of this series.
Missed a session? Recordings will be made available via Bank of Scotland Business Hub so be sure to follow, if you aren't already!
Are you aware of the government's Help to Grow scheme?
Help to Grow: Digital is launching this Autumn. It will offer UK businesses access to free and impartial advice on how technology can help their business. Eligible businesses will also be able to get a discount of up to 50% on the costs of approved software, worth up to £5,000. Find out more here
-------------------------------------------------------------------------------------------
Tata Consultancy Services is an IT services, consulting and business solutions organization that has been partnering with many of the world's largest businesses in their transformation journeys for over 50 years. TCS offers a consulting-led, cognitive powered, integrated portfolio of business, technology and engineering services and solutions. This is delivered through its unique Location Independent Agile™ delivery model, recognized as a benchmark of excellence in software development.
TCS' proactive stance on climate change and award-winning work with communities across the world have earned it a place in leading sustainability indices such as the MSCI Global Sustainability Index and the FTSE4Good Emerging Index.
For more information, visit www.tcs.com and follow TCS news at @TCS_News.
What are the Bank of Scotland Academy Sessions?
Each month, the group will focus on a key area designed to help you succeed in business. We will bring to your computer, interesting, informed and relevant industry leaders delivering keynote presentations to provide you with the opportunity to learn from their vast experience. We want to give you, as a business leader, a moment to think and reflect on your approach and a chance to share and converse with your peers.
With many challenges ahead as we move towards the 'new normal' it will still be a while before we can meet peers face to face to network so why not join other SMEs on our virtual networking platform (see below). You can sit around virtual tables of 6 to talk over videos, to learn from each other or network. Easily move from table and the click of the mouse or double tap.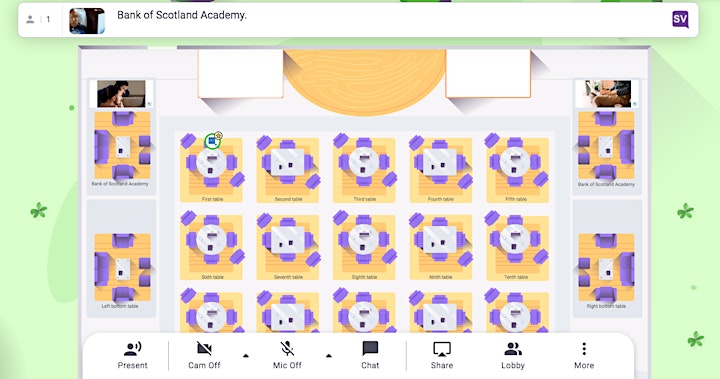 Bank of Scotland Academy aims to support SME's through opportunities to learn and network. These free sessions with Bank of Scotland Academy offer a chance for business to learn new skills to apply and network while we recover from the Coronavirus pandemic.
Eventbrite is a third party application. This means it is not owned or operated by Bank of Scotland. If you use this application you must sign up to Eventbrite's Terms of Service, Privacy Policy and Cookie Policy. You can review your marketing preferences once you have created/logged into your account by selecting "Account" then "Email Preferences".
The views and opinions expressed in events are those of the presenters and do not necessarily reflect the views and opinions of the Bank of Scotland. While all reasonable care has been taken to ensure that the information provided is correct, no liability is accepted by Bank of Scotland for any loss or damage caused to any person relying on any statement or omission. This is for information only and should not be relied upon as offering advice for any set of circumstances. Specific advice should always be sought in each instance.
Following this event, the Bank of Scotland Academy team may contact you with a request for feedback or to provide details of other upcoming events. Your details will not be used for any other purpose. By signing up for this session you are agreeing for your information to be used in this way.
Organiser of Determining tech budget & spend
We created the Academy to skill the people of Scotland
For over 300 years, we've been proudly by the side of Scotland. So when our research revealed that people across our country still need digital skills, we founded the Bank of Scotland Academy. We believe every Scot should be able to learn the skills they need to thrive on and offline, so the Academy is here to help people save money, businesses run more efficiently, and charities raise more money.
www.BankofScotlandAcademy.co.uk - The Academy brings learning to everyone, everywhere. The platform has been free from the day it went live in 2021, and it will stay that way forever.