Detox Your Body & Mind - Awakened Healing Retreat
Switch off, detox, recharge, practice yoga, meditation & breathwork in a small group + explore the stunning beauty of this magical island!
About this event
You're warmly invited to this beautiful, serene and tranquil villa with stunning views across one of the most amazing summer destinations in Europe: IBIZA. Switch off, detox, recharge, practice yoga & meditation in a small group and even explore the breathtaking beauty of this magical island!
Has the past year been too much for you too? Do you feel like taking a break? A holiday and ideally a retreat to detox your body & mind and escape the world to a place that's full of bliss and serenity – especially after the recent challenging global events of the past year? Feel like it's time to (re)awaken your healing and connect with your soul? Sounds good? Look no further - here it is!
Take some much needed time to unwind and fully relax & recharge in one of the most magical places on this earth whilst giving your body and mind a supreme opportunity to unplug and reset. Let us take care of you with healthy, nutritious and well balanced foods that support your body to detox and cleanse whilst being tucked away in a bespoke retreat venue surrounded by the tranquillity and beauty of the island's nature. Away from the everyday life hustle and bustle and daily commitments you can allow your mind to rest, detox and switch off. Gentle yoga in a small group of people combined with bespoke meditations & breath work and carefully selected activities will support you further to regain balance and connect with your heart & soul on this journey. Topped with walks and excursions that will have you capture the most stunning views!
You totally deserve to experience the impressive beauty and pure bliss the magical and awe-inspiring island of Ibiza has to offer! This retreat will most definitely be an experience of a lifetime that will make you look back with a big smile on your face and joy in your heart. Come join us! Secure your place today for this bespoke Detox Your Body & Mind - Awakened Healing Retreat. Treat yourself to this much needed time away full of bliss, nature, well-being and serenity in PARADISE – connect with nature, sun, beach and the breathtaking stunning Mediterranean sea, nourish your body & soul with meditation, yoga, nice walks and healthy plantbased foods. Detox and recharge. Switch off from you every day responsibilities and daily stresses and allow yourself to reconnect with your soul and awaken your healing.
This is a bespoke retreat which means the accommodation and spaces are purposely limited so that we can make sure all retreat guests are looked after and feel comfortable and at ease.
Treat yourself to this well deserved time of relaxation, inspiration and transformation, learn basic principles around nutrition & detoxing/cleansing the body and mind and let us help you find your reset button. Join us and explore uplifting as well as relaxing activities such as yoga (beginners very welcome!) in the private garden, relaxation by the beach and learn the power of breathwork. Let your body be nourished with delicious and highly nutritious plantbased meals that will also support your body in detoxing, cleansing and healing.
Join us and come on a journey of exploring balance and healing in many of its aspects.
THIS RETREAT IS IDEAL FOR YOU , IF YOU ARE:
in need of a break and looking for both a holiday that is a recharging retreat to make new experiences
wanting to give your body and mind a gentle detox and awaken your own self-healing
females and males alike (minimum age of 21 required)
RETREAT OUTCOMES:
gentle detox for your body & mind
relax & recharge in beautiful and tranquil nature of the magical island of Ibiza
nourish your body with healthy nutritious foods
participate in yoga & meditation daily in a small group of people
awaken your self-healing & learn basic yet key nutritional aspects
meet new like-minded people and make new friends
explore the island in a way most tourists never get to see
leave refreshed, recharged and equipped with new knowledge and tools to help you keep balanced and detoxing your body and mind
WHAT'S INCLUDED:
6 nights accommodation at a private venue/villa
5 morning meditations and dynamic yoga sessions
5 evening relaxing activity sessions (activities tbc)
5 daily educational sessions (various topics)
Water, teas and fruit during the day (when at the venue)
Daily healthy fresh juice / smoothie or kombucha & nutritional brunch x5 and breakfast on departure morning
Dinner x4 and 1 light evening snack (arrival night)
1 x group evening dinner out to (restaurant tbc - meal & drink cost not included, optional)
1 x Sunrise or Sunset meditation
1 x Nature walk/hike to explore the island
1 x vVsit & walk of the beautiful Ibiza town/Eivissa
1 x Cacao + sound ceremony/gong bath
Optional (at extra cost) :
1x 30 minute nutrition consultation optional (cost not included)
Holistic Massage optional (cost not included)
(Note: schedule and content are approximate and whilst we do out best to keep to it, it may be subject to change short notice)
WHAT'S NOT INCLUDED:
air fare
airport transfers
personal holiday/travel insurance
holistic therapies
one group dinner out
excursions (apart from one guided walk)
FLIGHTS:
Depending on which UK airport, flights are currently starting at approx. £60 return. Ibiza is served with direct flights (only 2h15min) regularly from many airports by many airlines which are currently offering flexible fares. If you prefer to arrive early or stay on to enjoy more time on the magical and infamous White Isle please consider that. A good place to search for flights is Skyscanner or airlines directly!
Since 1st July Ibiza is open to all flights globally.
Rates starting from £989.- per person for sharing a room that sleeps 2 people on an Early Bird rate. For rates for single occupancy or any other questions please email: awakenedhealing@outlook.com
Refunds policy applies (fully refundable until 14 days prior to event only in case of travel restriction changes due to COVID regulations, however please note Eventbrite booking fee is non-refundable).
Looking forward to spending an incredibly transformational week with you!
Namaste and love & light! See you soon at this magical place :-)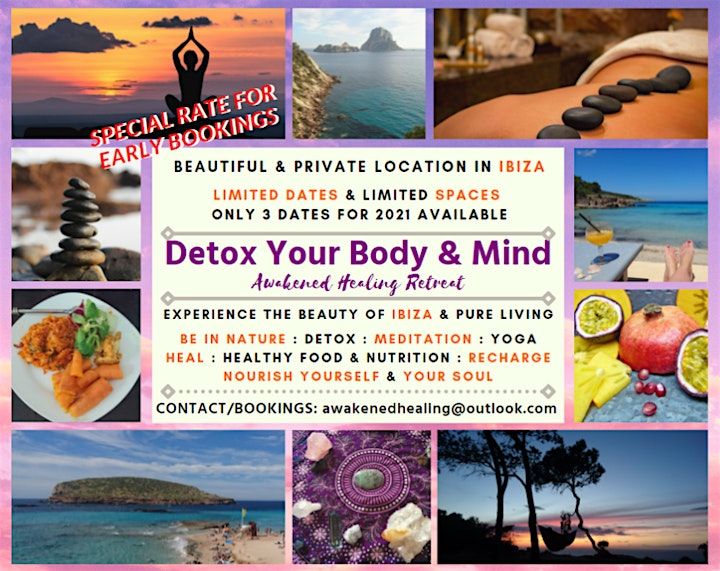 Organiser of Detox Your Body & Mind - Awakened Healing Retreat