When it all comes down to one point! Step up to the line at the Deuce Summer Open 2021! Men's & Women's Doubles Events.
About this event
STEP UP TO THE LINE, SERVE & VOLLEY YOUR WAY INTO THE DEUCE SUMMER OPEN.
Tournament date: Sunday 8th August.
Entries open: 19th July at 8pm.
ENTRIES & WITHDRAWALS:
Entries Open: 19th July at 8pm
Entry Deadline: Monday 2nd August at 12pm
Entry Fee: £20 per team
Withdrawal Deadline: Thursday 5th August at 12pm
When you purchase the ticket entry into the tournament you will be asked to provide your Doubles Partner's details.
TOURNAMENT INFO:
DEUCE SUMMER OPEN 2021 will be held at Loxford Park Beach Courts in Ilford. There will be Men's and Women's Doubles events taking place.
It's a one day event on Sunday 8th August 2021. Both Men's and Women's draws will be a knockout format with consolation draws. It's a great opportunity to play and compete!
There will be 4 match courts as well as 2 practice courts set up on the day.
DRAWS & SIGN IN:
(Subject to change)
Men's: Knockout Draw with Consolation Draw - Sign In- 09:00 18/10/2020
Women's: Knockout Draw with Consolation Draw - Sign In - 09:00 18/10/2020
Mixed Doubles: TBC
ADDITIONAL INFO:
Pavilion with toilets
6 Outdoor Courts: 4 Match Courts & 2 Practice Courts
Sandever 900 Official Ball
VENUE & TRAVEL:
Loxford Park Beach Courts, Loxford Lane, Ilford , IG1 2SA
Nearest Train Stations: Illford & Barking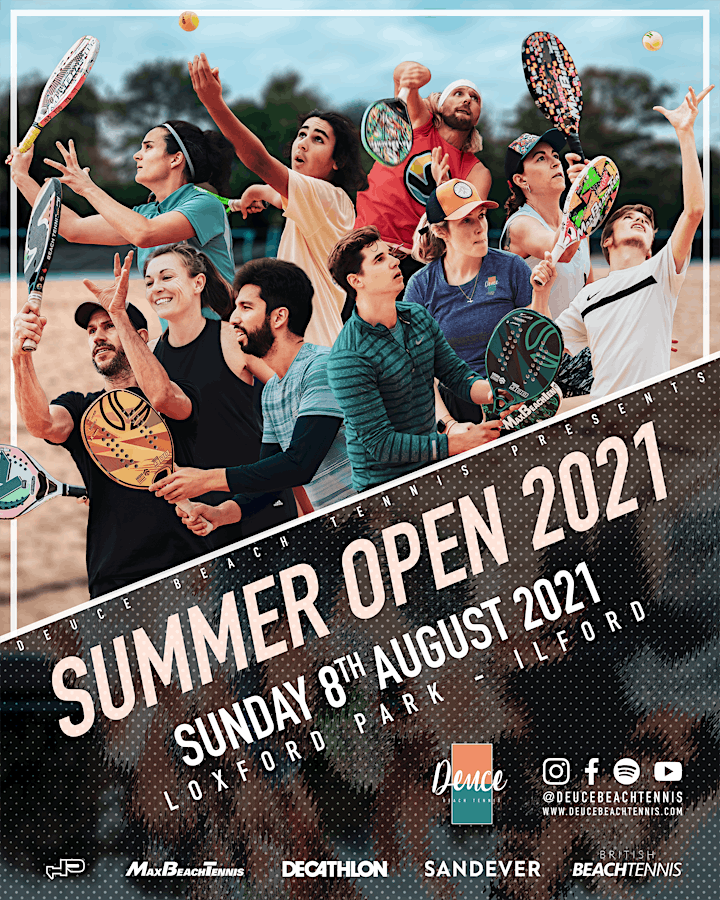 TOURNAMENT CONTACT:
Chris Maguire
info@deucebeachtennis.com
Looking forward to seeing everyone on the sand!