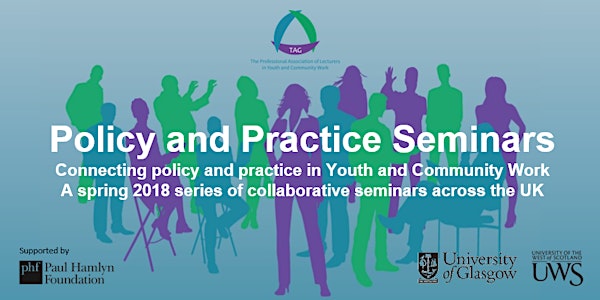 Developing a Charter for Post Brexit Youth and Community Work (Dumfries)
Location
University of the West Of Scotland
Dudgeon House
Bankend Road
Dumfries
DG1 4ZN
United Kingdom
Description
The Professional Association of Lecturers in Youth and Community Work is funding a series of free national, collaborative 'Policy and Practice' seminars around the UK. The aim of these seminars is to foster greater levels of collaboration between higher education institutions and practice agencies in the profiling of challenges and opportunities facing youth and community work policy and practice across the UK.
This Seminar Title: '
Developing a Charter for Post-Brexit Youth and Community Work'
Hosted by the University of the West of Scotland, and co-designed by the University of Glasgow, this event will include representation from the Prince's Trust, Youthlink Scotland and other practice agencies engaged in community-based youth work. The seminar will be repeated at the St Andrews Building of the University of Glasgow in Wednesday 16th May (Follow this link to book in to the Glasgow event).
This Seminar Brief:
The purpose of these seminars is to act as a first stage in the development of a new and visionary post-Brexit Charter of demands for a 21st century Youth and Community Work service. The seminars will not attempt to speculate on the impact of Brexit but rather to use Brexit as an opportunity to draw up demands for changes in policy and funding to enable practitioners to increase and improve the service they offer. This is an opportunity for practitioners and researchers, based on the collective evidence we have, to consider what we would like to see for Youth and Community Work, rather than waiting and accepting outcomes decided by governments. We will be taking a pro-active rather than defensive approach and have identified some themes for the seminar to address but are also flexible to embrace other ideas on the day. Themes will include: funding models and resources for Youth and Community Work; community activism; inter-professional practice; core provision. After the seminars, the draft Charter will be circulated around the UK for consultation. Once that consultation is complete there will be a formal launch in each of the four nations to demonstrate our united approach.
Who should participate?
We invite participation from practitioners, academics, researchers, agencies, policy-makers and activists from across the UK who share a concern for the wellbeing of young people and communities. The seminar will include opportunities for participation and networking with a view to extending partnerships between academia and practice agencies.
How do I book?
Click on the green 'register' button to reserve your free space (which will include refreshments; and catering where a seminar includes a typical meal-time). Please select the booking category that best fits your status and you will be emailed a confirmation 'ticket'. Further updates and information will follow as the event draws nearer with final joining details and a full programme emailed a week in advance of the seminar date.
What other seminars are taking place?
This seminar is one of ten free 'Policy and Practice' seminars taking place around the UK - each with a unique theme and approach - and you can view the full list of events via this link.

*The Professional Association is grateful to the Paul Hamlyn Foundation for a grant that allows us to offer these seminars as free events to all participants. More information on the grant making activities of the Paul Hamlyn Foundation Youth Fund are available on their website via this link.