Together, we'll work through proven strategies to build positivity within your life. A fun morning of learning with lunch included.
About this event
Who is this workshop for?
Are you holding back on following your dreams?
Are there voices in your head telling you that you can't or shouldn't achieve your goals?
Do you lack clarity on what your strengths are & how to use them effectively?
When you get a knock back do you find it hard to get back up again?
Do you lack confidence?
Do you struggle to manage your stress levels?
Do you want a clear and manageable plan of action to improve your happiness?
If you answer yes to any of the above & are ready to start making the changes necessary to SHINE then this workshop could be for you!
How will it help?
Join Positive Psychology (aka the science of happiness) specialist & professional coach Annie Lee for a fun & experiential workshop where you will get to learn proven techniques for improving your wellbeing.
Explore how to train the brain to focus on positive aspects of your life.
Identify the thinking patterns that may be holding you back.
Learn and practice effective tools and strategies for improving your happiness.
Develop an individual positive mindset action plan.
We will be joined at this workshop by Claire Holgate, a Devon-based live illustrator, who will create a unique, large-scale graphic in real time to capture & deepen our learning. Claire will also create individual visual action plans for each participant to keep.
There will be tea, coffee & pastries on arrival, tea, coffee & cake mid morning & a finger buffet lunch all included in the price.
What do people say about Annie?
"Wow - what an amazing coach. Annie is professional, fun and a supercharged agent of change. Annie's insights and empathetic approach coupled with her constant pushing at your comfort zone, means time spent with Annie is awesome and a fabulous investment in yourself and your career. I totally recommend her to you. Fasten your seatbelt and be ready for one of the best journeys ever!"
"I attended one of Annie's coaching workshops earlier this year. It was such a positive experience- as a new business owner I was struggling with being clear about how to achieve what I wanted and Annie's workshops very much helped with this."
"Her positivity is infectious: A conversation with Annie is like being hooked up to an intravenous drip of inspiration & motivation!"
What people say about Claire:
"Claire is a massively talented graphic recorder… She is empathic and collaborative, an excellent listener with an amazing ability to sensitively capture and record important points through drawing."
"Claire is a whizz, a perennial partner and illustrator par excellence. I simply could not have produced an engaging and successful range of materials without Claire's help…Her illustrations have enabled me to create a recognisable brand."
If you have any questions about the day please do contact Annie via email on annie@annieleeassociates.com or call her on 07796990630.
Date: Friday 1st November 2019
Time: 9.30am - 1pm
Venue: Sidmouth Harbour Hotel & Spa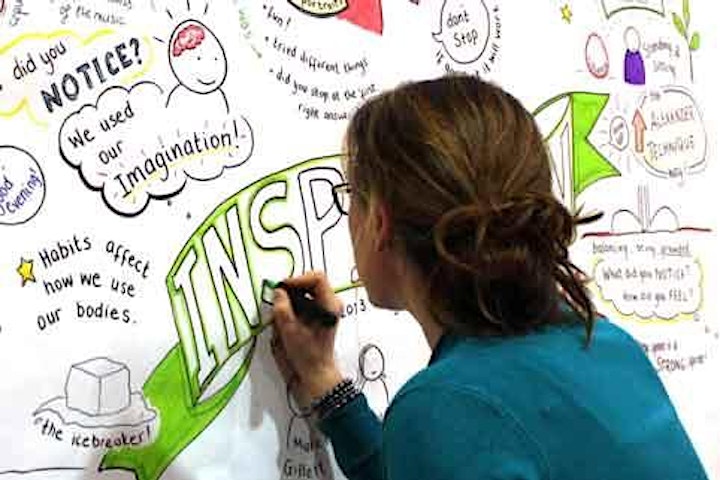 Organiser of Developing a Positive Mindset to SHINE!
Annie is a highly qualified, experienced & accredited coach & facilitator who works with individuals, groups & organisations to enable them to reach & surpass their potential.  Annie specialises in Positive Psychology, aka the science of happiness, running regular workshops & group coaching in the South West.