Join this fully funded 6 week course to learn about augmented reality and develop your own AR Trail - no experience needed
About this event
Please note - to participate in this course you must be based in Greater Manchester. This is due to funding restrictions and exceptions cannot be made.
What is an Augmented Reality Trail?
Perhaps best known through games like Pokemon Go, an Augmented Reality trail encourages users to explore physical locations by developing a trail or story to follow on a mobile device. When the user reaches a key location on the trail, digital assets appear on the device - this could be an image, a video or a sound.
AR Trails are becoming ever more popular and we're starting to see a range of applications in the tourism, cultural and heritage sectors as they explore how AR can encourage new audiences and increase engagement with visitors.
But how easy is it to create an AR Trail from scratch?
Not as difficult as you would think!
Part of Creative England's Ideate programme, this six week course is designed to take you through each stage of developing an AR Trail from explaining what AR actually is to concept creation, planning your trail on location, sourcing/creating assets, market testing and distribution.
Who is this for?
If you're a creative or cultural business and you're interested in how AR can enhance the products and experiences you create, then this course is for you. No prior experience is needed. Due to the funding requirements of the Ideate programme, the following eligibility criteria applies:
- Participants must be based in Greater Manchester
- Participants must be registered freelancers or companies e.g. ltd companies, charities, CICs etc (we will require your UTR number or company registration number before accepting you onto the course)
- Participants must employ fewer than 250 people and turnover less than €50m
How many places are on the course?
There are 10 places available on the course. Due to the limited number, participants must be able to commit to all of the course dates which are outlined below.
Course Outline
Week 1: Introduction to Immersive Technology
Thursday 6th May 9:30 – 11:30
• What is AR, VR and XR?
• Why develop an AR Trail experience?
• Building a concept for an AR trail and shaping a story
Week 2: Defining Your Narrative for AR Trail Experiences
Thursday 13th May 9:30 – 11:30
• Identifying place, people and theme
• Creating/sourcing digital assets
Week 3: On Location
Thursday 20th May 9:30 – 11:30
• Walking the space
• Testing the assets
• Creating your trail
Week 4: Presentations
Thursday 27th May 9:30 – 11:30
• Sharing first draft of the experience with the cohort
• Feedback and points for development
HALF TERM BREAK
Week 5: Experience Testing
Thursday 10th June 9:30 – 11:30
• Testing the experience
• Eliciting feedback from users.
• Reviewing multiple platforms/contexts
Week 6: Distribution
Thursday 17th June 9:30 – 11:30
• Exploring platforms
• Promotion planning
• Developing an audience
How to Join
Register your interest in joining this course by signing up on Eventbrite and the Ideate team will be in touch with you directly to confirm your place. All sessions will take place on zoom.
The deadline for registrations is Friday 30th April and places on this course will be allocated on a first come, first served basis (subject to eligibility criteria).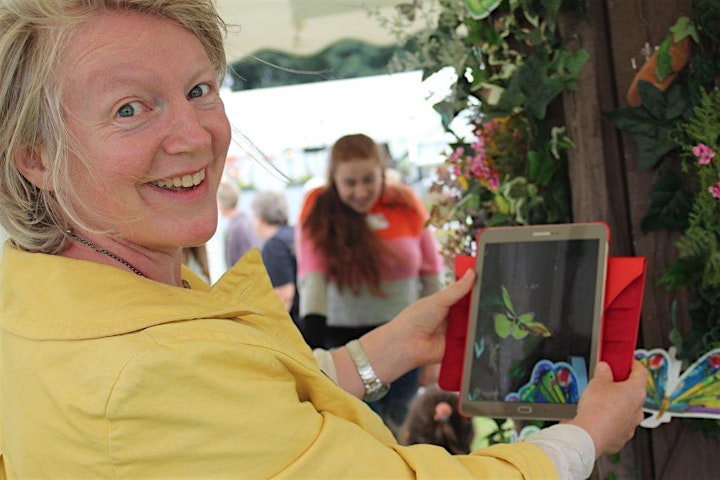 About the Course Provider
This course is being delivered by Visioning Lab.
Visioning Lab is a creative digital studio and innovation consultancy working across public, private and third sectors. It was founded 2 years ago by Dr Jessica Symons who set up Visioning Lab to develop cool projects with heritage, fantasy and futurist themes, influence transformative practices and shape how emerging technologies impact on social and environmental dynamics.
Jessica is committed to helping people realise their creative digital potential, bringing 25 years of digital and social entrepreneurship and 10 years as an anthropologist. She is Research Fellow and Lecturer in digital placemaking at the University of Manchester, runs workshops for large multinationals, SMEs and start ups and mentors social entrepreneurs and creatives.
Jessica speaks at conferences and public events in the UK and internationally on how to engage communities in understanding their creative potential and how to shape the development of emerging technologies for sustainable and social purposes.
Our Funders and Partners
This course is part of Ideate - a bespoke support programme for creative individuals and businesses in Greater Manchester delivered by Creative England, funded by the European Regional Development Fund and run in partnership with Manchester Growth Hub and Northern Powerhouse.
Get in Touch
If you have any queries about this course or the Ideate programme, don't hesitate to get in touch with stephanie.clark@creativeengland.co.uk