Developing Demonstration Projects: Corrosion Prevention for Offshore Renewa...
Description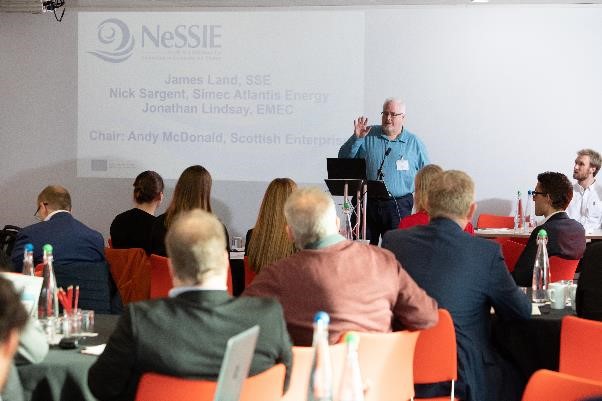 Do you want to hear about collaborative demonstration projects to tackle corrosion?
The NeSSIE* EU funded project is helping to develop the Blue Economy; specifically the growing offshore renewables sector.
This short workshop will explain how the NeSSIE project created business plans for demonstration projects and will present case studies from companies of successful projects in Scotland, the Basque Country and Belgium.
Demonstration projects are an effective way to take innovation to commercialisation. The corrosion solutions will provide global growth and opportunities for job creation in the Blue Economy.
This free event will provide a forum for you to learn from the experience of the NeSSIE partners, and is an opportunity to learn how to develop future successful demonstration projects.
* NeSSIE (North Sea Solutions for Innovation in Corrosion for Energy) was funded to develop demonstration projects using existing anti-corrosion technology and materials for offshore renewables in the North Sea. Supported by the European Maritime and Fisheries Fund (EMFF).
Agenda
0900 Coffee
0930 Welcome – Charles Abbott, Scotland Europa
0945 The NeSSIE approach – creating demonstration projects – Jan Reid, Scottish Enterprise
• Demonstrating the benefits of addressing corrosion
• Finding project owners through a competitive call process
• Building the value chain and engaging with suppliers from other industries
• Defining the business case for offshore renewable energy demonstrators
1045 Corrosion Solutions in harsh offshore environments
• Survey of project developer needs and engaging solution providers - Jeroen Tacq, Sirris
• A corrosion solution company's first-hand experience – Luca Donelli, President of Lombardy Energy Cleantech Cluster
1115 Coffee Break
1145 Demonstrations from the Regions 
• Scotland - The Meygen project:  The world leading demonstrator for tidal energy with ambitions to demonstrate corrosion for tidal energy – Jeremy Thake, Simec Atlantis Energy
• Belgium - Innovative Business Network – Offshore Energy: The importance of clustering and need for test and demonstration in the offshore energy sector - Pieter Mathys , University of Ghent
• Basque Country - HarshLab - first floating laboratory in Europe for testing in a real offshore marine environment – Marcos Suarez Garcia, Basque Energy Cluster
1230 Expert panel Q&A
1250 Closing remarks
1300 Lunch
Privacy - Your personal information is processed by us in accordance with our privacy notice and data protection legislation. You can find more information by visiting our privacy notice here.
DISCLAIMER
Although every effort has been made to ensure the accuracy of the information provided, Scottish Enterprise, Scottish Government and Highlands and Islands Enterprise cannot be held responsible for any inaccuracies or omissions in the information supplied, or for the content of any website that the email above may contain links to, and does not endorse any business or individual that may be referred to above.