Sales Have Ended
Registrations are closed
Thank you for registering your interest in STEM Learning's virtual business event - Developing our Future STEM Talent through Public & Private Partnership on 27th May 2021. Unfortunately, this event is now closed to new registrations. However, we are planning on holding further events over the coming months. If you would like to be notified of future dates please email employers@stem.org.uk and use the subject heading STEM Learning Business Events. Thanks again for your interest Kind regards STEM Learning
Sales Have Ended
Registrations are closed
Thank you for registering your interest in STEM Learning's virtual business event - Developing our Future STEM Talent through Public & Private Partnership on 27th May 2021. Unfortunately, this event is now closed to new registrations. However, we are planning on holding further events over the coming months. If you would like to be notified of future dates please email employers@stem.org.uk and use the subject heading STEM Learning Business Events. Thanks again for your interest Kind regards STEM Learning
STEM businesses are thriving due to their collaboration with public funded bodies - engaging our young people is key for future success
About this event
Public funded bodies working alongside business are able to create the best environments for innovation whist also delivering social value. Part of this impact is their position to support young people to be excited by and engaged with STEM subjects and careers - able to play a full part in the most exciting developments in STEM
In this session we will be joining forces with our friends from RAL Space and Satellite Applications Catapult - key players in the space sector - who are funded through UKRI. We will:
find out more about how these partnerships work and the innovation they champion
discuss how these partnerships deliver social value
hear from STEM Learning about how important it is to nurture and develop our young people to engage in STEM so that they can be part of these collaborations - delivering innovation and success going forward to further cement the UK's position as a global leader
share individual experiences - successes and challenges
Although our partners at this event are from within the space sector - the message and approach is the same for businesses across all sectors. So do come along and join our panellists:
o Alex Brown – STEM Support Manager, STEM Learning
o Chris Mutlow – Director, RAL Space
o Steph White – STEM Ambassador Project Officer, STEM Learning
o Stuart Martin - CEO, Satellite Applications Catapult
to find out how we can all work together to help to support our young people to be the creators and thinkers of tomorrow.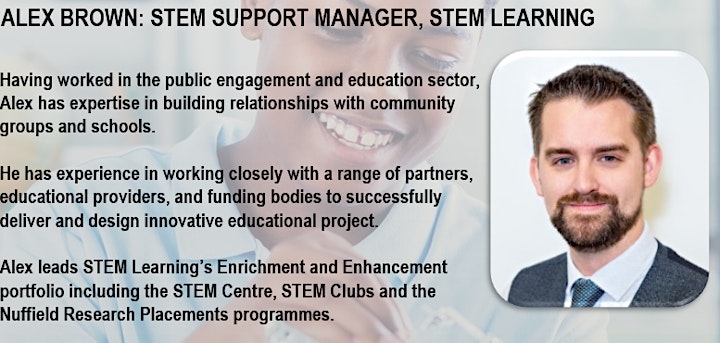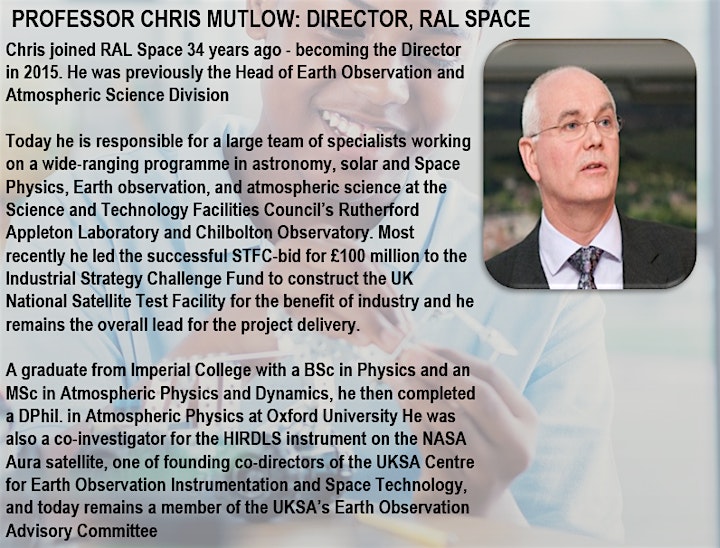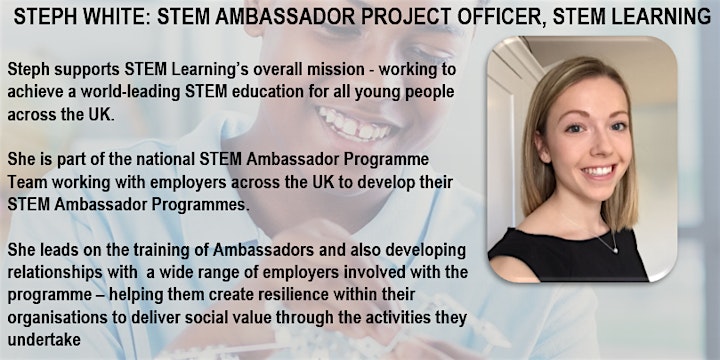 STEM Learning is the largest provider of STEM (Science, Technology, Engineering and Maths) education and careers support in the UK, bridging the gap between businesses and schools to deliver world-leading STEM education for children in, and now out, of school.
We bridge the gap between businesses and schools. By working with us to invest in teachers in local schools and colleges, employers can help deliver a world-leading STEM education, inspiring young people and building the pipeline of talent in their area, making it a win-win for everyone.
"We are currently experiencing a strange world which has made us all rethink the way we do things. The impact is not just affecting the present but also the future and now, more than at any other time, we need to work together"
RAL Space is the UK's national laboratory advancing the understanding​ of space and our environment for the benefit of all.
They carry out world-class science research and technology development with significant involvement in instruments on board more than 210 spacecraft.
As an integral part of the Science and Technology Faciliti​es Council (STFC), RAL Space is the space hub for UK Rese​arch and Innovation​, supporting its mission to create the best possible environment for research and innovation to flourish.
They work with UK and overseas agencies, universities and industrial companies on space and ground based space projects. Their unique position between industry and academia enables them to strengthen the UK space community through:​
o scientific research ​
o technology development
o providing cutting edge facilities​
o strategic advice to external partners
The Satellite Applications Catapult is one of a network of UK technology and innovation companies which aim to drive economic growth through the commercialisation of research. Their aim is to support UK industry by accelerating the growth of satellite applications and to contribute to capturing a 10% share of the global space market predicted by 2030.
They are achieving this by exploiting the innovation potential in the UK industrial and academic communities, by being a focal point where small and medium enterprises, large industry and end users can work together with researchers to challenge barriers, explore and develop new ideas, and bring these to commercial reality.
Organiser of Developing our Future STEM Talent through Public & Private Partnership