Sales Have Ended
Registrations are closed
Registration had finished. Contact the organisation at info@aquavitaeproject.eu.
Sales Have Ended
Registrations are closed
Registration had finished. Contact the organisation at info@aquavitaeproject.eu.
What are the challenges and opportunities in trans-Atlantic research collaboration and a sustainable Atlantic aquaculture industry?
About this event
Two H2020 projects AquaVitae and Astral will share experiences and best practices based on their research toward more sustainable aquaculture activities in the Belém Statement areas. Both projects will offer examples and opportunities of innovation, stakeholder participation, social awareness, and capacity building.
As a third aspect of this side event, the AANChOR Joint Action: "Initiation toward a Brazilian Aquaculture Technology & Innovation Platform as a first step towards an All-Atlantic Aquaculture Platform" will be presented by EATiP – the European Aquaculture Technology & Innovation Platform. Using Brazil as a case study, but with application to all Belém partners, this JA seeks to scope the potential for self-sustaining Atlantic aquaculture multi stakeholder platform(s) in the development of a national / regional Strategic Research & Innovation agenda for sustainable industry development.
ASTRAL focuses on integrated multi-trophic aquaculture (IMTA) farming, aiming to define, support, and promote this type of sustainable aquaculture production across the Atlantic area.
AquaVitae aims to increase aquaculture production in and around the Atlantic Ocean by developing new species, processes and products, focusing on low trophic species.
EATiP is an international non-profit association dedicated to developing, supporting and promoting aquaculture and, especially and specifically, technology and innovation in aquaculture across the European aquaculture value chain, accompanied by leading research groups and key representative associations & organisations
Registration
Registration is limited to 200 participants. It will be managed on a first come, first served basis.
Expected audience
Research institutions, policymakers, academia, young researchers, and advisory bodies involved in aquaculture activities, environmental protection or food safety in the Atlantic.
Agenda
Download the event agenda.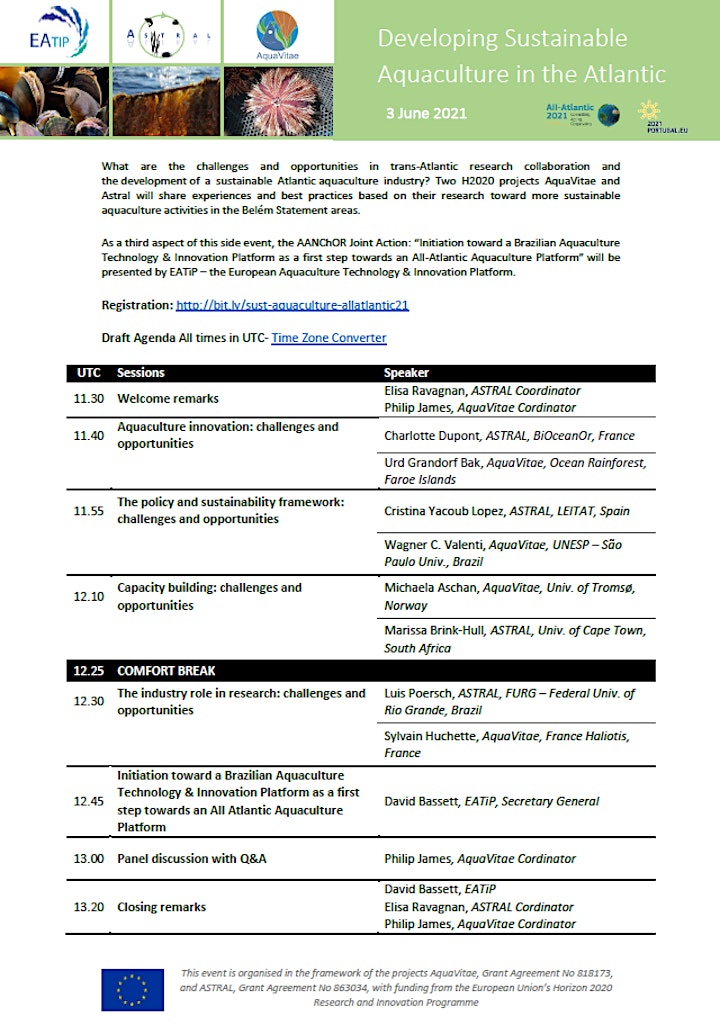 Organiser of Developing sustainable aquaculture in the Atlantic