Refund policy
Contact the organiser to request a refund.
Eventbrite's fee is nonrefundable.
Develop and apply the five capabilities of sustainable organisations.
About this event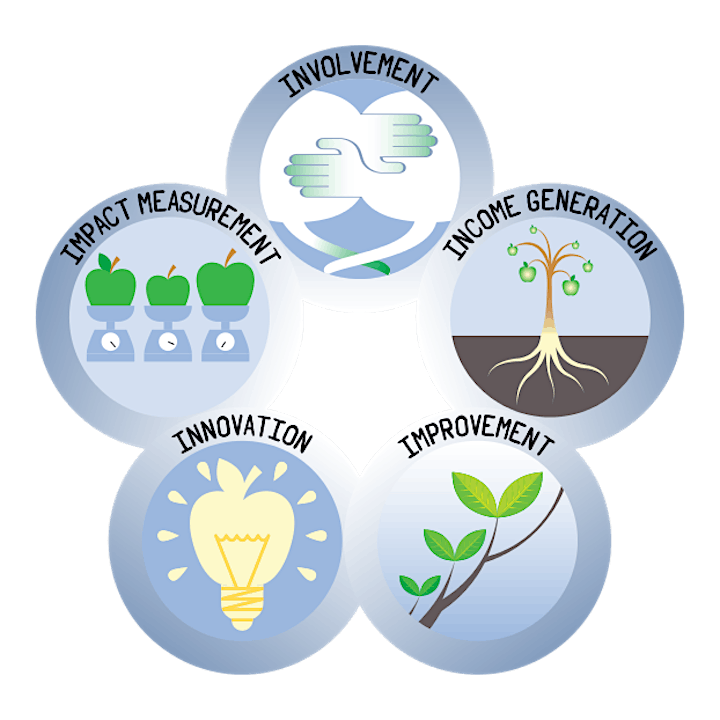 Masterclass 2 in a series of 3
We've updated our core Lasting Difference workshops, packaging them into three standalone online masterclasses. Enthusiastic feedback from 2021 shows that this new format is a successful way to achieve these core learning outcomes:
Improving understanding of charity sustainability
Increasing ability to sustain learning and innovation from the pandemic
Identifying ideas for improving their project or organisation's sustainability
Increased strategic clarity and ability to manage capacity.
Scroll down for workshop outlines. Click 'Tickets' to book your place (follow the links below for the other two masterclasses).
This session: Developing the Five Capabilities of Sustainable Organisations
The first masterclass in the series explores the principles of sustainable organisations. This one identifies the five core capabilities and helps you make plans for developing them:
Involvement: the glue that holds organisations together
Income Generation: a holistic approach to every source of revenue
Innovation: radical or (more likely) incremental changes to what came before
Improvement: getting better all the time
Impact Measurement: compelling stories about the difference you truly make
As with the other masterclasses, tutor input will be followed by supportive group activity, sharing challenges, generating ideas and developing solutions based on your experience of bringing the capabilities to life.
Features
These participatory online workshops replicate everything you'd expect from face-to-face participation while being cheaper and more accessible:
Clear content delivery supported by slides, handouts & extra resources.
Full interaction, with audio, video, text chat, polls and shared notes.
Peer sharing and support with breakout spaces for small group activity, supported by members of the Lasting Difference team.
Click on the links below to find out more about the other sessions and book your place.
Understand the principles and develop the practices you need to survive - and sustain your work - in a post-crisis world. It introduces and re-examines the principles of sustainable organisations in the light of recent challenges.
Introducing and exploring the six possible exit strategies for any stage in a project or organisational lifecycle. Identify and plan for the most appropriate strategy for transitioning from survival to sustainability.
The return of our popular new workshop - tame your main sustainability challenges!
Introducing 'Shine a Light', our new guide to system sustainability, capacity and leadership.
About The Lasting Difference
These sessions are led by Graeme Reekie, author of the popular Lasting Difference toolkit and Director of The Lasting Difference consultancy (formerly 'Wren and Greyhound'). Graeme is a respected charity consultant who has supported nonprofit organisations through workshops, facilitation and strategic consultancy over 15+ years. Members of the Lasting Difference team will also be on hand to help out during the workshops.
The updated fifth edition of the Lasting Difference has just been published and is available from TheLastingDifference.com, with more than 7500 copies now in use by charities and social enterprises around the world.
FAQs
Q. Do I need to book for all three events separately?
A. Yes, please help us manage the events by booking onto each event separately. You can do this using the links above.
Q. How many people can take part?
A. There are up to 20 places available for each session. Up to three people from the same organisation can take part, but please book separately as this makes it easier to manage communications.
Q. What if I only want to do one or two of the workshops, or if I can't attend one?
A. That's fine! People who do all three get a lot more from the experience and the relationships that are built. Taken together, the masterclasses provide a coherent programme to help you address sustainability in your project or organisation. But they also stand alone in themselves, with short refreshers at the start to introduce any core concepts you may have missed.
Q. What is the refund policy if I need to cancel?
You can cancel your booking within two weeks of the event for a full refund. After this date, we cannot provide refunds because of the administration costs we will have incurred.
Either way, if you book a place but need to cancel, please let us know as soon as possible by emailing: info@thelastingdifference.com