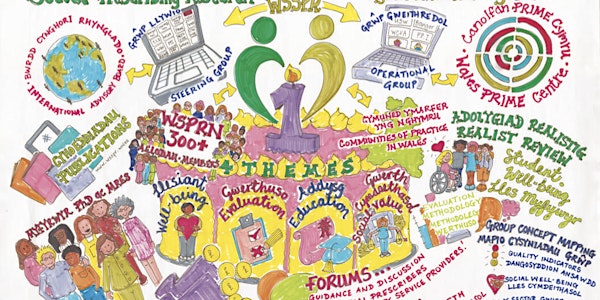 Developing the Irish Sea Social Prescribing Co-operation - Event 2
Online event developing social prescribing across the Celtic Sea - Event 2 - developing the research priorities
About this event
The Irish Sea Social Prescribing Eco-System Platform is a unique collaborative space for innovation on social prescribing (SP) for researchers and practitioners in the Republic of Ireland & Wales. The network will support open discussion, collaboration and research between a range of disciplines and sectors to develop best practice in social prescribing.
Wales Social Prescribing Research Network (WSSPR) will be hosting three online events the with purpose of developing a partnership and agreeing priorities for research across the Celtic Sea. These events are open to all to attend, whether you are a researcher, academic, work in health and social care, the third sector or just have an interest in social prescribing.
Event 1: Showcase was held on the 16th May.
Event 2 – Develop the Research Priorities on 26th May 10:00am – 12:00pm
In this event we will be working together to establish your views on research priorities for social prescribing. We will be collecting these views online using the Group Concept Mapping (GCM) tool GroupWisdom. Group Concept Mapping (GCM) is an online exercise, which considers individual experiences and perspectives to create agreement about topics. In this case we are wanting to reach agreement about our shared research priorities.
We are using two stages in our GCM exercise; brainstorming and rating. In brainstorming we use a prompt or open-ended sentence, to ask you to share your ideas as to which research priorities you would want to be included for discussion and prioritisation. Please could you click on the link below before we meet on the 26th May which will take you into the brainstorming activity which take approximately 5-10 minutes depending on how much you want to write.
When you enter the link, you will be asked four questions about yourself: 
In which country to you currently work? 
What is your professional role?
Under which category does your professional role fall? 
How long have you been working in/with social prescribing? 
We ask these questions so we can see if there's a difference in priorities between countries, roles and length of time working in social prescribing.  You will then be asked to share your ideas as to which research priorities you would want to be included for discussion and prioritisation. All information is anonymous.
During event on the 26th May we will complete the 2nd activity called rating by importance.
Register for Event 2 by clicking the above link.
Event 3 – Moving Forwards – 20th June, 1.00pm – 3.00 pm.
Event 3 will be used as a forum in which an agreement can be reached on which priorities can be taken forwards to work together on.
More information on Event 3 and to Register for attendance at Event 3.
EVENTS WILL BE VIA MICROSOFT TEAMS