This event focuses on creating online sales and marketing strategies to engage more customers for leisure, health and wellbeing businesses
About this event
Developing Your Marketing & Digital
Strategy for Hospitality
Thursday 18th November 
10.00 - 11.00am
What is it? 
Getting Your Marketing Strategy Right Implementation session.
This is the implementation session for session 2 of Richmond Council's specialist Hospitality business accelerator.
Together we will take an in-depth journey through your brand engagement, your marketing plan and how you can specifically build your social media to increase engagement and get a return on investment. We have a team of experts who will guide you through a specific area so you can easily apply it to your business. 
By the end of this session we will recap:
- A brand engagement marketing plan
- Have a game plan for your social media campaigns
- How to easily set up and use SEO and Google My Business to get free traffic to your website
- Have a simple, easy and effective marketing plan that you can action in a short amount of time 
- How to focus on the quality content you need to create key messaging
Ray Lavery and Helen Roberts will show you how to develop a simple yet powerful marketing plan. You will identify your best routes to market and how to choose your main platform. They will also discuss the power of local and how you can work collectively to support and help each other to boost exposure.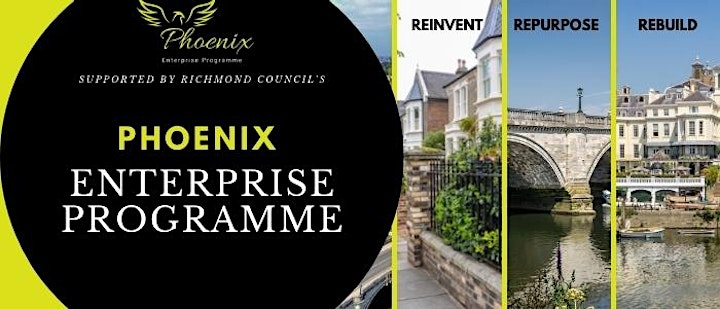 Organiser of Developing Your Marketing & Digital Strategy for Hospitality
Welcome Richmond is a brand new programme of business support for all hospitality & tourism businesses in Richmond Upon Thames. It is part of the Phoenix Enterprise Programme. It has been put together to help small hospitality businesses through these challenging times. The programme will support pre-start, start up and SME's across the hospitality industry who have been hit hard by Covid-19. The programme runs from December 2020 until November 2021.
2020 has had a dramatic impact on thousands of small businesses in the Richmond borough with many business owners on their knees and having to reinvent their business, repurpose their offer and rebuild their company. Never before has it been so important to gain access to support to help people through this crisis.
Welcome Richmond within the Phoenix Enterprise Programme will be the most comprehensive programme of business support ever delivered in Richmond. Whether you are thinking about starting up a hospitality business or have recently started up or you are ready to take your business to the next level; we have plenty on offer for you.