About this Event
Development & HMO Special!
September's Croydon Property Meet
On Wednesday 4th September 2019, special guest speakers, property developer Dick Dabner and HMO duo, Niall Scott & Matt Baker of Scott Baker Properties, will be joining co-hosts Sel Fayyad and Rob Norton at the Croydon Park Hotel from 7 pm for September's Croydon Property Meet!
Dick Dabner - From a 1 bed flat to £1million homes: How to build trust and give great returns when developing property
Dick Dabner has been helping people get great returns and grow their wealth from property since 2002. During that time he has been involved in over 250 projects that have had an 'adding value' element to them. The investors and JV partners involved in these projects have benefited both financially and in property knowledge. Learn from Dick how to work closely and build trust with investors and joint venture partners to maximise the value of a site and make good returns all round.
Niall Scott and Matt Baker - Next-Level HMO Strategies
Niall and Matt will be talking about the growth of their business and how they now implement "Next-Level" HMO strategies to maximise profit in every deal that they do. They will also share their keys to continued growth and how accountability and Masterminding has played the most important role in their success to date. In their first 3 years of property investment, they secured a combined total of 83 rental units from a standing start worth over £3.7million. The growth has been exponential as they doubled their portfolio every year. 2019 is no exception as they aim to create homes for 96 new individuals in shared living as part of their development goal dubbed: Project 96.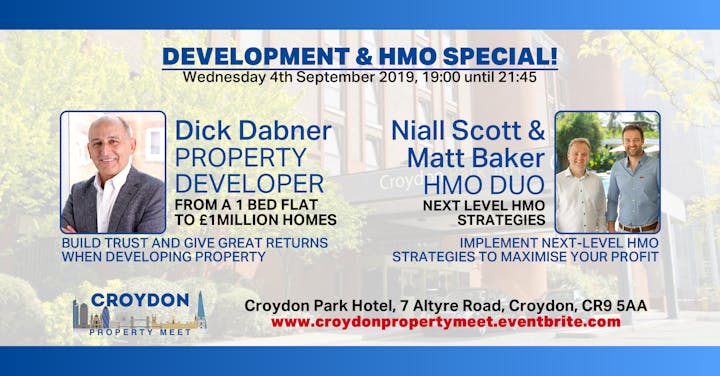 There are two different ticket options to choose from:
Early Bird - £9.97. This ticket will only available for a limited time and offers general admission to the event at a discounted price.
General Admission - £19.99. This ticket grants you general admission to the Croydon Property Meet.
P.S. Enter the discount code CROYDON for 25% off your ticket ;)