This is the third WebiMar - a series of educational seminar on marine ingredients for professionals.
About this event
Dette webinaret omhandler forskning på PhD-nivå som gjelder analyse og utnyttelse av marine ressurser på høyt nivå (isolering av høyverdiprodukter) og utvikling av innovative teknologiske løsninger for å ekstrahere ingredienser fra marint råstoff.
Det overordnede målet for modulen er å gi kunnskap og erfaring om bærekraftig sjømatindustri gjennom en tverrfaglig tilnærming som dekker fagfelt fra marine ressurser via sjømatforedling til næringsstoffer.
Webinaret undersøker spesielt marine råstoffer, typer råstoff, enkelttrinn på prosessering og hele verdikjeden ved produksjon av mat og fôr.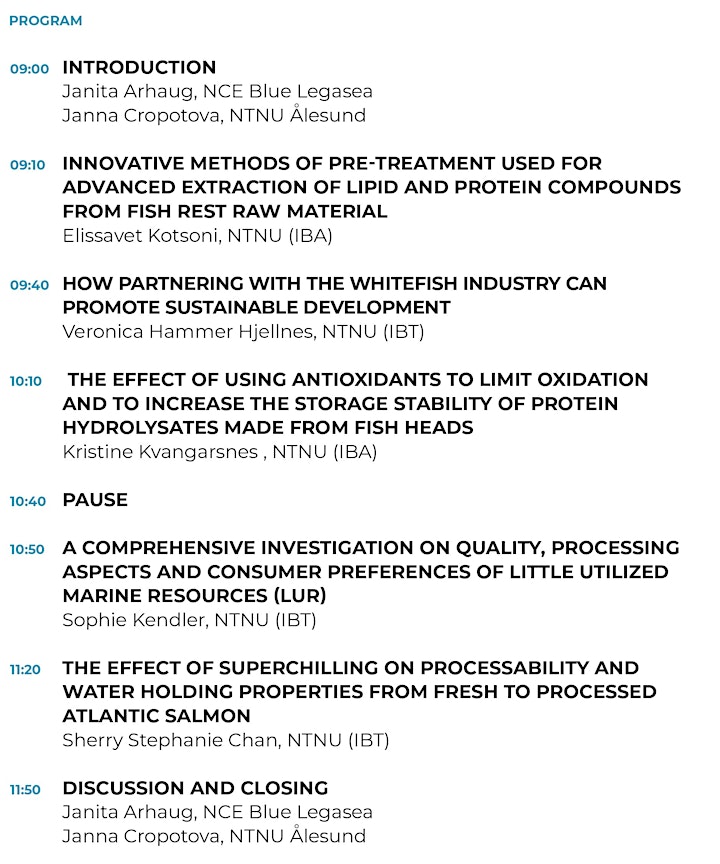 Organizer of Development in the fish and ingredient processing industry
Denne webinarserien består av EVU-kurs innen marine ingredienser. Kurset retter seg mot alle i marin og biomarin næring som jobber med marine ingredienser, eller har planer om å gjøre det. Kursene har også relevans for andre interessenter som vil lære mer om denne spennende næringen.
Kursene tilbys både til klyngenes medlemmer og til andre interesserte.