Description
Developmental Play Course Outline
Level 1 – Basic Certificate in Developmental Play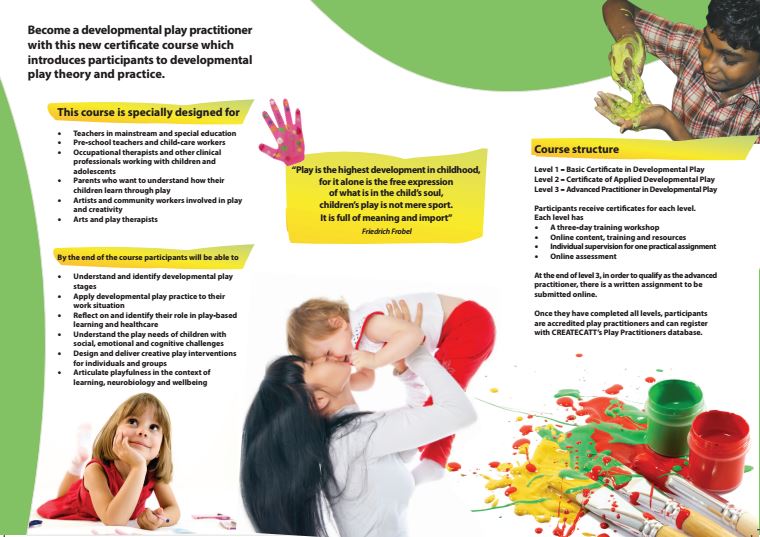 Find out all about the theory and practice of Developmental Play - a new approach to how children learn through play. It brings together best practice from education, play therapy and occupational therapy, and will help you work with your children to make them better learners, better friends and happier, healthier children.
This course is specially designed for
Teachers in mainstream and special education

Pre-school teachers and child-care workers

Occupational therapists and other clinical professionals working with children and adolescents

Parents who want to understand how their children learn through play

Artists and community workers involved in play and creativity

Arts and play therapists
Learning aims:
Understand and identify developmental play and art stages

Reflect on and identify their role in play-based learning and healthcare

Understand attachment theory and why children need relationships with objects

Understand the play developmental pyramid

Understand why mess is important in child development
Day 1 – Introduction
Understanding play and the decline of play

The inner child and attachment- theory and practice

Children's play stages

Story telling
Day 2 - Play Development
Early play stages –NDP, EPR and Essame art making stages- theory and practice
Body-work, finding identity and body schema
Day 3 - Play Development and assessments

Understanding the role of the adult in play
Art and developmental art-making

Eco-play
Assessment:
Observation linked to learning aims using Lickert scale

Play assessment during

Multiple choice questionnaire

This course is run by Caroline Clay, the UK Senior Trainer and Consultant of CreateCATT.