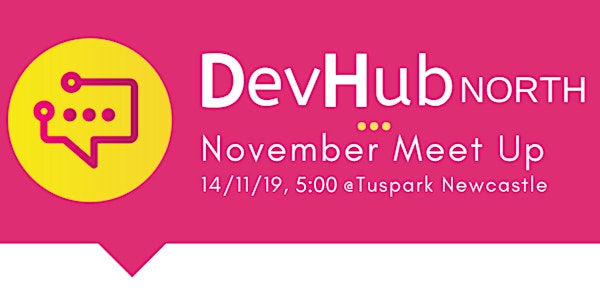 DevHub North - November Meetup
Location
Tuspark Newcastle
27 Grainger Street
Newcastle upon Tyne
NE1 5JE
United Kingdom
DevHub is back and with a bang! For our regulars is business as usual but for new attendees expect a developer community like no other...
About this event
We're welcoming all Developers, Tech / Digital / Marketing Professionals, Students and anyone else who has an interest in all things DEV, to join us at our November meet up event. 💬
Our event is free and gives you the opportunity to network with like minded people, share your experiences and form new ideas. There will be more pizza, more beers and some more amazing speakers so make sure you secure your place with a ticket!
The doors open at 5:00pm which gives you time to grab a drink, settle in and network if you wish, before the first talk at 5:30! Expect the Pizza Punk arrival to come during the break before the last talk. 🎉
🗣 Meet our guest speakers:
∙ Development Manager from Cognassist - Paul Smith!
∙ Heads of Engineering at Tesco Bank - Ian Skelly and Tristan Brown who will be covering Services & API and Engineering Culture!
∙ Technical Lead at BGL Group - Phillip Johnson who will be talking about SOLID Design Principles!
We hope you're as excited for it as we are!
See you there,
DevHub North and Ronald James Group 👋🏻