Join us on the 6th of May: The Dutch Fund for Climate and Development (DFCD) 'Scalable Climate Solutions Challenge' in Kenya.
About this event
The Dutch Fund for Climate and Development's (DFCD) Scalable Climate Solutions Challenge is looking for scalable solutions that provide climate-resilience and large-scale impact in climate vulnerable landscapes around the world.
To learn more about these challenges and how DFCD could support your project's objectives in scaling successfully, and generating social and environmental development, we're organizing an interactive online event focused on projects that fit the needs of local communities and ecosystems in kenya.
By targeting the Kenya landscape with the Scalable Climate Solutions Challenge, we seek to collectively contribute to the development of a diversified economy by having a coordinated approach to agriculture, agroforestry, water management and sustainable energy investments. A scalable climate solution could enhance the ecological value and individual activities within a landscape and improve the resilience, economic prospects and livelihoods of the population.
One project will be provided with a development contribution of up to € 350K from the existing DFCD Origination facility, get a chance to present their project at COP26 in Glasgow and become eligible for larger support from DFCD. Is your organisation interested in this Challenge and do you have or know a project that fits the needs of local communities and ecosystems in Kenya? We'd love for you and your stakeholders to join us.
Here's our panel for the day:
Aart Mulder, Portfolio Manager Climate, Fund Manager DFCD
Ms Elizabeth Carabine, Senior Climate Expert, Embassy of the Kingdom of the Netherlands in Kenya
Ms Caroline Kariuki, CEO of Kenya Private Sector Alliance (KEPSA)
Ms Nuru Mugambi, Director of Public Affairs & Sustainable Finance Lead at Kenya Bankers Association
Mr Yaron Cohen, Manager, Project Madaraka Amiran Kenya Ltd
Tigere Muzenda, Regional Investment Officer, SSA at Dutch Fund for Climate & Development, SNV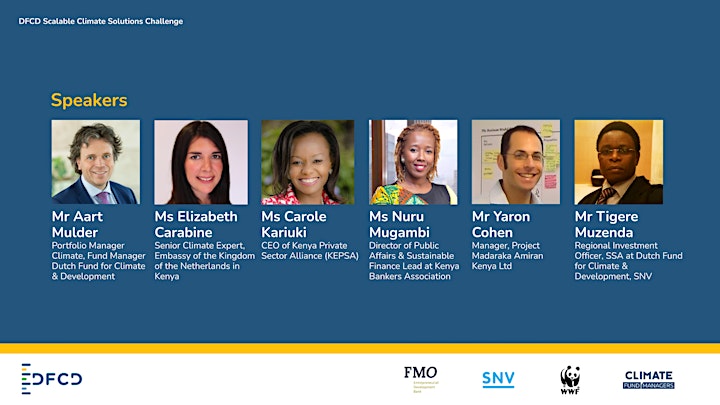 6 May 2021
Scalable Climate Solutions challenge in Kenya
Time: 11.00 Kenya Time (10:00 Central European Time)
Want to know more?
Visit www.thedfcd.com/challenge or reach out to info@thedfcd.com for further questions.
To apply directly and participate in the challenge, click on this link and register your project: https://airtable.com/shrV3PUGJ6Tmdyvco