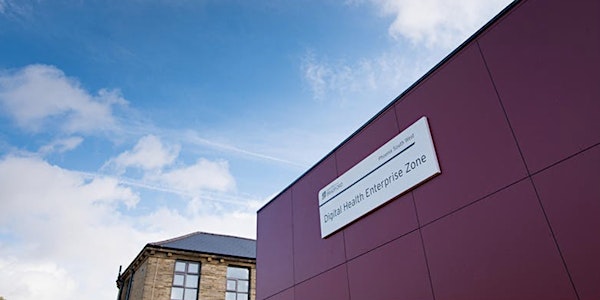 DHEZ 2022: Emerging Technological Innovations for Future Connected Health
This event is part of the DHEZ Seminar Series 2022 https://www.bradford.ac.uk/dhez/events/seminar-series-2022/
About this event
The Digital Health Enterprise Zone (DHEZ) Seminar Series showcases innovations in digital health and provides a forum for academics, healthcare professionals and business to network and learn about public engagement in healthcare and pathways to implementation of digital health solutions and new models of care.
The remarkable advances in telecommunication, computing power and the semiconductor industry have significantly transformed the medical world.
Wireless and satellite communication knowledge is bridging the divide between patients and providers separated by geography. These developments increase the possibility of advancing healthcare delivery systems, like the "Triple Aim" health framework targeted at improving people's experience of care, the health of the population and reducing costs. The development of interactive medical devices with improved sensing ability aid early detection of symptoms and provides sample data on community infection rates. The data then informs therapeutic methods to support healthcare delivery.
Modern technologies are critical to health care delivery. Medicine and healthcare delivery are shifting focus to technology-enabled ideas to enable patients to stay at home for as long as possible and still receive a high level of home care.
'Connected Health' or' technology-enabled health' is a dynamic, fluidic conceptualised ecosystem of digital health that combines technologies and health innovations such as eHealth, telehealth, telecare, telemedicine, and mobile health (mHealth) for the health management of patients. It brings a diverse set of researchers together to support predictive, preventive, and personalised medicine.
Professor Fun Hu and Dr George Oguntala will use this seminar to share more about their research in 'Connected Health' and how it is making a difference.
About the speakers
Professor Fun Hu is Professor of Wireless Communications Engineering since 2005 and the holder of the Yorkshire Forward Chair in Wireless Communications (2007). Since starting her academic career in 1992, Prof. Hu has received considerable funding support through participations and contributions to many flagship projects funded by the UK funding councils, the EU, ESA and TSB. Much of her research activities have been conducted in collaboration with industry and other universities and research organisations over the globe. Her major research is in integrated mobile, wireless and satellite communication networks with particular applications to vehicular communications networks including aircrafts and trains. Prof. Hu has published over 100 papers in scientific journals and international conferences, and have co-authored 1 book, edited two books and contributed to 5 book chapters. She was the Head of the Biomedical & Electronics Engineering Department in the Faculty of Engineering and Informatics between 2018-2022. She is currently the Centre Director of the Bradford-Renduchintala Centre for Space AI.
Dr. George Oguntala is a Lecturer in Biomedical Engineering with the Department of Life Sciences, School of Health Sciences, Birmingham City University. He is Co-Lead of the Interdisciplinary Research for Healthcare, Technology and Diseases Research Cluster within the School of Health. Before joining Birmingham City University in 2020, George worked as a Post-Doctoral Research Assistant and Research Assistant in wireless communication, digital and smart health with the Department of Biomedical and Electronics Engineering, University of Bradford. He completed his Ph.D. in Electrical Engineering at the University of Bradford, UK, whilst he served as the Lead researcher on a parallel research strand on thermal enhancement and consumer electronics. He has published over 60 papers and conference in top-notch scientific journals and international conferences and have authored 2 books and contributed to 2 book chapters.
He is an Associate Fellow of the Higher Education Academy (AFHEA), Senior Member of the Institute of Electrical Electronics Engineers (IEEE), Member of the Institution of Engineering and Technology (IET), and a Chartered Engineer.
Who should attend
This event is open to anyone who wishes to attend and will be of particular interest to University of Bradford staff and students, City of Bradford Metropolitan District Council and NHS professionals.
It will be recorded and delivered via MS Teams.