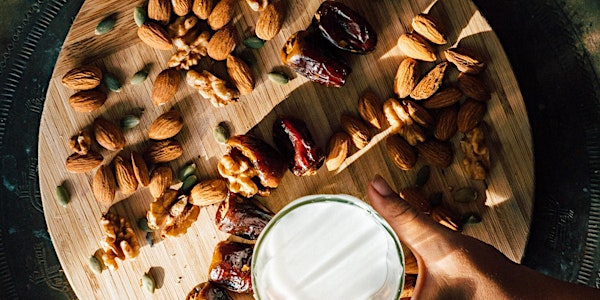 Diabetes and Ramadan - How to prepare and participate in the holy month
Join us for this webinar with a host of guest speakers to help with information for people living with diabetes who may or may not fast.
About this event
We welcome you to a joint event by the London and North of England teams at Diabetes UK - presenting Moulana Azizur Rahman (graduate of Traditional Islamic Studies, Theology, Jurisprudence & Classical Arabic from Imam Zakariya Academy, Forest Gate, and teacher and course co-ordinator at Al Misbaah Academy, Seven Kings, London) and health expert Dr Waqas Tahir (GP Partner Affinity Care (Cowgill Surgery, Clayton), GPwER Diabetes and Diabetes Lead, Bradford Care Alliance).
This will be followed by two people sharing their lived experience of diabetes and Ramadan and the talks will also be followed by a Q&A.
This webinar is being recorded so if you can't attend the live event but would like to watch it please still register and the recording will be sent to you afterwards.
Terms and Conditions:
1. Attendance
This event is being organised by Diabetes UK. Diabetes UK is the operating name of the British Diabetic Association, a company limited by guarantee (company number 00339181) and a charity registered in England and Wales (no. 215199) and in Scotland (no. SC039136) which has its registered office at Wells Lawrence House, 126 Back Church Lane, London E1 1FH.
2. Closing dates for registration
Registration for the event closes 17th February 2022 at 17:00.
3. Amendments to your booking and cancellations
Amendment and cancellation requests should be sent via email to: london@diabetes.org.uk
In the event that the event is cancelled for any reason, delegates will be notified as soon as practicable prior to the advertised date of the event. Diabetes UK accepts no liability in respect of any loss or damage, whether direct, consequential or otherwise arising from any delay in providing the event, cancellation of the event.
4. Programme and speakers
Diabetes UK reserves the right to alter the programme and/or speakers without prior notice and without any liability to attendees. Diabetes UK does not accept responsibility for the views expressed by the individual speakers.
5. Photography and recordings
A video recording will be taken of the online conference on Zoom video conferencing platform. Diabetes UK may use these photos and videos in post-event publicity and on future marketing materials. In registering to attend the conference, delegates agree to the recording taking place, and to Diabetes UK using the photographs and videos as set out above.
Any form of recording, photography and/or screenshots by delegates attending the conference are strictly forbidden. Diabetes UK staff reserve the right to disconnect and block any attendees suspected of recording or photographing the digital online meeting.
Diabetes UK staff reserve the right, without any liability, to refuse an attendee access or to eject them from the event for failure to comply with these terms; or if in Diabetes UK's opinion an attendee represents a security risk, nuisance or annoyance to the running of the event.
Zoom video conferencing
Please note this event will be hosted online via Zoom video conferencing and their T&C's can be found here. (https://zoom.us/privacy)
Attendees are solely responsible for ensuring that they have the necessary desktop or mobile equipment and internet connection for accessing the event.
Attendees are responsible for use of any link or log in details provided to them for accessing the event and for preventing unauthorised use of such link or log in details. If attendees believe there has been any breach of security such as the disclosure, theft or unauthorised use of any such link or log in details to the event you must notify Diabetes UK immediately.
6. Cancellation, postponement, and/or alteration
Diabetes UK reserves the right to postpone, alter and/or cancel the event (including, without limitation, by reason of a force majeure). Diabetes UK accepts no liability in respect of any loss or damage, whether direct, consequential or otherwise arising from any delay in providing the event, cancellation of the event or change of format of delivery of this event. Diabetes UK shall not be liable to delegates for any costs incurred in connection with accessing the event.
7. Data protection
Diabetes UK takes data protection and your privacy seriously. We will use the personal data you provide to us to:
• To provide information about the event to you
• To provide information for Diabetes UK administration purposes
• Send you promotional materials relating to future Diabetes UK events
Diabetes UK will not take responsibility for any personal information or data you choose to share with sponsors or delegates directly at the event.
You can find out more about how we use your information at www.diabetes.org.uk/privacy. You can change how you hear from us or ask us to stop communicating with you at any time:
• Visit us at https://forms.diabetes.org.uk/im-in-charge
• Email us at helpline@diabetes.org.uk
• Phone us on 0345 123 2399
8. Third parties and group bookings
If you are booking on behalf of another person, you confirm that you are authorised by that person to make the booking, and that the person has confirmed their agreement to be bound by these Terms and Conditions. You acknowledge and agree that both you and the person for whom you are making the booking will be bound by these Terms and Conditions.