Location
Vale Real
3W6X+9Q Quarteira
Vale Real
8135-034 Almancil
Portugal
Join us for this intimate musical performance as part of Vale do Lobo Summer Music Sessions 2022
About this event
Summer in Vale do Lobo wouldn't be the same without our sensational open-air concert series. And this year promises to exceed all expectations as we present our concerts in the stunning setting of the new Vale Real experience area overlooking one of our iconic golf lakes. Appealing to all ages, the diverse music programme features vocalists, violinists, guitarists, pianists, quartets, and quintets in genres including fado, jazz, bossa nova, soul, Latin, classical and pop.
Each Saturday at 8pm, from June until the beginning of September, we will host intimate music events for a select audience. The varied line-up features renowned artists who will bring outstanding musical entertainment to the beautiful natural setting of Vale Real. And the evening performance time ensures glorious sunset views overlooking one of our beautiful golf course lakes. With a bar service available throughout, these exclusive concerts are the perfect way to enjoy a summer evening with family or friends.
VALE DO LOBO MUSIC SESSIONS 2022 | DIALOGUE OF GUITARS ON STAGE - Intimate musical performance by Amar Guitarra
Showcasing the guitar artistry of João Cuña and Pedro Mendes, and supported by the percussion skills of Ivo Martins, this will be a performance of great energy and mastery. The exhilarating show will weave in and out of multiple musical genres, such as fado, flamenco, morna, jazz, gipsy and tango.
AMAR GUITARRA will feature an exciting on-stage dialogue between acoustic and Portuguese guitars of João Cuña and Pedro Mendes "Pierre" accompanied by the excellent percussionist Ivo Martins. The complicity between the guitars is conveyed to the public, along several original themes. The repertoire will be very eclectic, selected especially for the audience, and covering various musical styles, from Fado, to Tango, Jazz, Bossa Nova, Gypsy Jazz and Flamenco.
You may hear pieces of composers and artists such as Carlos Paredes, Paco de Lucia, Astor Piazzolla, Django Reinhardt, Cesária Évora, Amália Rodrigues.
This ecletic event is part of the Vale do Lobo 2022's diversified programme of intimate concerts, bringing together top quality artists in an exclusive outdoor musical performance, with a limited number of participants, in the stunning setting overlooking an iconic golf lake. The "Vale do Lobo Summer Music Sessions" were created to provide the audience with true cultural community gathering throughout the summer months in total relaxation and serenity of surrounding nature.
About the artists:
-----------------------------------------------------------------------------------------------
SESSÕES MUSICAIS DE VERÃO 2022 EM VALE DO LOBO | DIÁLOGO DE VIOLAS EM PALCO - Concerto intimista por Amar Guitarra
O Verão em Vale do Lobo não seria o mesmo sem os nossos sensacionais concertos intimistas ao ar livre. E este ano promete exceder todas as expectativas com novos e excecionais concertos no deslumbrante cenário da nova área de experiências no Vale Real, com vista para um dos nossos icónicos lagos do campo de golfe. Apelando a todas as idades, o diversificado programa musical reúne vocalistas, violinistas, guitarristas, pianistas, quartetos, e quintetos em géneros incluindo fado, jazz, bossa nova, soul, latim, clássico e pop.
Todos os sábados às 20 horas, de Junho até ao início de Setembro, receberemos eventos musicais íntimos para um número limitado de pessoas. A variada programação apresenta artistas de renome que proporcionarão excelentes espetáculos musicais no belíssimo cenário natural do Vale Real. Para além disso, cada um destes concertos ao entardecer permite uma magnífica vista do pôr-do-sol sobre um dos nossos belos lagos no campo de golfe. Com um serviço de bar disponível, estes concertos exclusivos são a forma perfeita para desfrutar de uma tarde de Verão com a família ou amigos.
O Trio AMAR GUITARRA, composto pelas guitarras de João Cuña e Pedro Mendes acompanhados pelo exímio percussionista Ivo Martins, apresenta neste concerto intimista uma noite de pura musicalidade ao pôr-do-sol.
A formação AMAR GUITARRA apresenta neste concerto um espetáculo único que consiste num emocionante diálogo em palco, entre as guitarras acústicas e guitarra portuguesa de João Cuña e Pedro Mendes "Pierre" pelas percussões de Ivo Marions. A cumplicidade entre as guitarras é transmitida ao público, ao longo de diversos temas originais e versões, em vários estilos musicais: Fado, Flamenco, Morna, Jazz, Gypsy Jazz e Tango.
Os temas selecionados serão sempre dos mais famosos compositores e artistas, tais como Carlos Paredes, Paco de Lucia, Astor Piazzolla, Django Reinhardt, Cesária Évora, Amália Rodrigues.
Este eclético evento está inserido no diversificado programa de concertos intimistas de Vale do Lobo 2022 que reúne artistas de exímia qualidade em atuações musicais exclusivas ao ar livre, com um número limitado de participantes, no deslumbrante cenário sobre o lago do campo de golfe. Os "Vale do Lobo Intimate Summer Concerts" foram especialmente desenvolvidos para proporcionar aos clientes e visitantes do resort ao longo dos meses de Verão verdadeiros momentos culturais, sociais e de lazer num ambiente natural de total descontração e serenidade.
Sobre os artistas: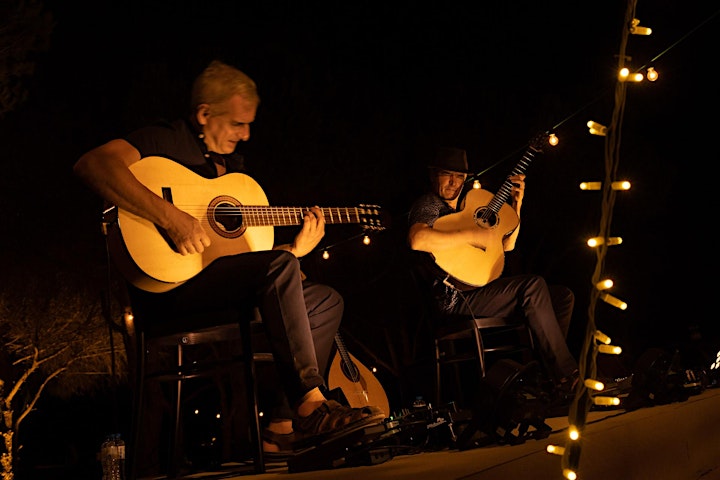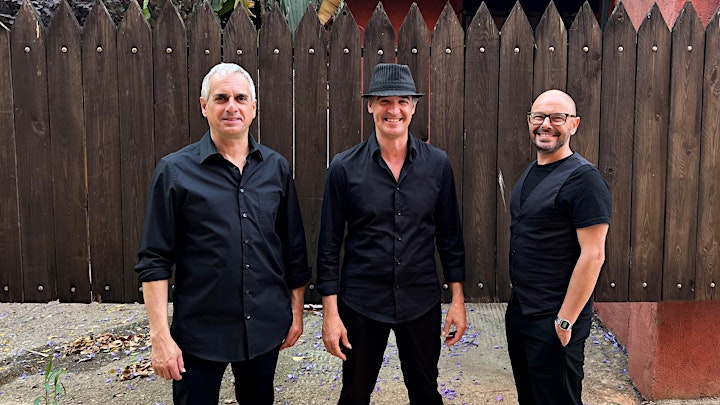 A nurturing gathering in beautiful nature
You will find our music sessions in the Vale Real area of the resort. This blissful location surrounded by pine trees and overlooking one of Vale do Lobo's iconic golf lakes. A place to take it all in, soak up the sunset, the music and the surrounding views for ultimate relaxation.
Get directions HERE.