Description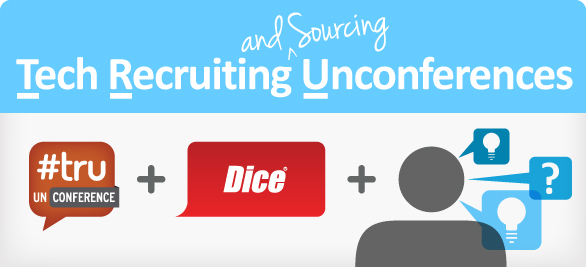 An event for technical recruiters and sourcers, where the emphasis is on the conversation. #tru is the biggest series of HR & Recruiting UnConferences in the world.




Powered by Dice at the SmartRecruiters headquarters in San Francisco, this is the first #tru event dedicated to "technical recruiting and sourcing". It's a full day barcamp style unconference, meaning that we take the fun part of a conference (think coffee breaks) where people get to network, discuss ideas and get inspired, and take out the lengthy presentations and "Death by PowerPoint." Topics revolve around real recruiting issues, like challenging the skills shortage, employer branding, talent acquisition, cool new tech sourcing tools, referrals etc. To give it a bit more structure, we divide the event into topics = tracks, which are moderated by designated thought leaders or pure enthusiasts. A track lasts for one hour, and the content is determined by the participants, who are drawn from practitioners in technical recruiting.
This is event is powered by @EmployersonDice
The track leaders and topics.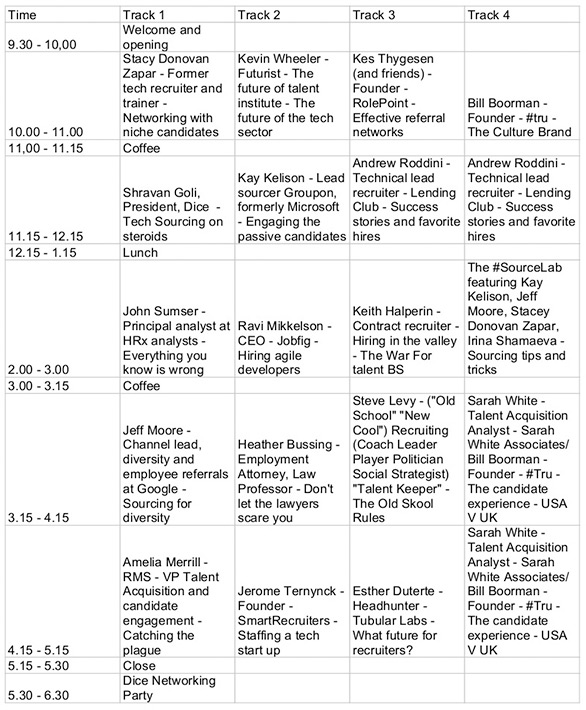 This is a unique event that promises to offer lively conversation, open discussion, learning and networking.
9:30 a.m. – 5:00 p.m.
Tickets are restricted to 100.
Register now at the top of this page.
#DiceTru will also take place on:
August 15, 2013
The Computer History Museum,1401 N. Shoreline Blvd
Mountain View, CA 94043
YOU CAN BOOK MOUNTAIN VIEW HERE
These events are made possible by @EmployersonDice, supporting the local tech recruiters community. With Dice you can discover the most comprehensive view of tech talent. Take your place centre stage with our powerful tech sourcing and recruiting skills, including Openweb, now in beta.
Company Overview
Dice has always been your source for the best techology candidates. Now our next-generation Open web service goes beyond the resume and helps you unleash your inner recruiting rock star. Our rich database has 1.5 million tech resumes with detailed data on skills and experience to help you shred the stage. Then access even more tech talent with our innovative Openweb recruiting and sourcing tool.
Take a tour: www.dice.com/OpenWeb