Sales Have Ended
Registrations are closed
Missed the window for registration?!?! You can still join us on Zoom with the details below: Meeting ID: 859 5889 8198. Passcode: 968721
Sales Have Ended
Registrations are closed
Missed the window for registration?!?! You can still join us on Zoom with the details below: Meeting ID: 859 5889 8198. Passcode: 968721
Cultural appropriation or cultural appreciation? Can you tell the difference?
About this event
Is "cultural appropriation" just one of those dreaded buzzphrases that has lost any meaning? Also why are we even talking about this, shouldn't we want everyone's culture to mainstream? Isn't it a good thing for diversity and inclusion?
Let's discuss these together and as usual use examples (Oh No They Didn't) from the world of celebrity and also real life to get to an understanding of the difference between cultural appropriation and cultural appreciation and why it matters.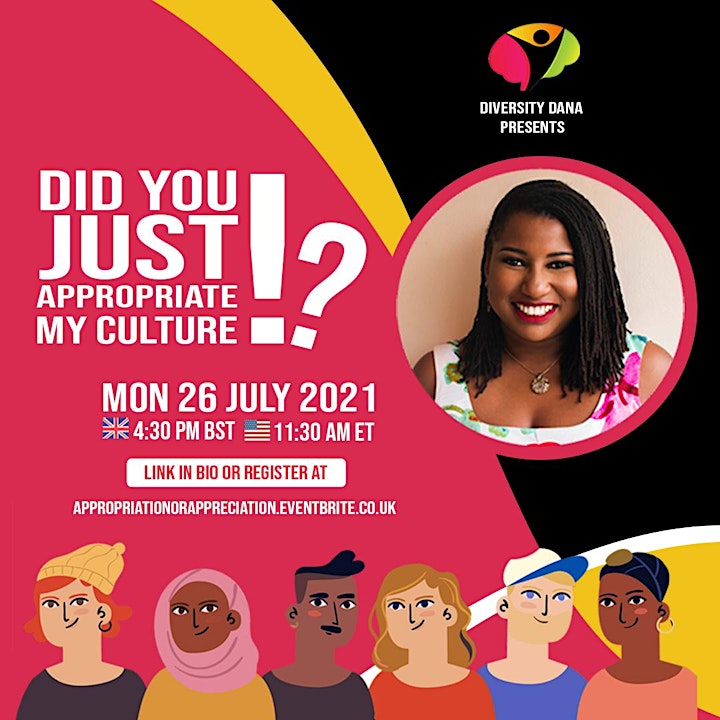 Organiser of Did You Just Appropriate My Culture?!?!?!
If you're new to your Diversity & Inclusion journey it can feel overwhelming and difficult to get to grips with it all. Asking questions can be uncomfortable. It seems as if everyone is on edge and there's lots of worry about saying and doing the right thing all of the time. But what if there was a safe space where you could let your guard down, feel free to ask some of those burning questions and learn a little bit more about Diversity & Inclusion, specifically how to talk about it and how to be an ally? Well there is that space, and it's right here with Diversity Dana.