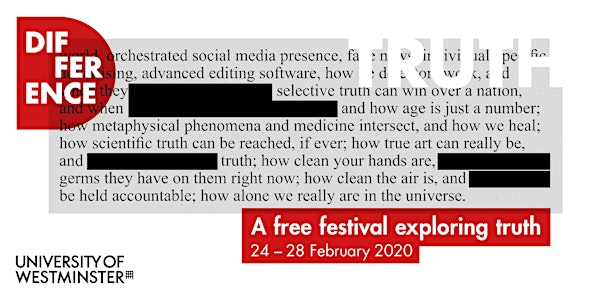 Difference Festival - Sink Without Trace:Truths about Migrant Deaths at Sea
Location
University of Westminster - Regent Campus
Fyvie Hall
309 Regent St
London
W1B 2HW
United Kingdom
Sink Without Trace: Investigating the Truths about Migrant Deaths at Sea
About this event
For over three decades, unknown numbers of deaths have been occurring amongst migrants attempting to cross the Mediterranean Sea towards Europe.
This round table discussion will consider the mis-reporting of these deaths by the media and governments, the widespread use of misleading statistics and the lack of regulation relating to the recovery and identification of migrant's bodies.
This will be the first in a series of discussions aimed at creating a document of agreed truths on the subject of migrant deaths at sea. Leading experts from NGO's, media organisations and government bodies will be invited to investigate the myths surrounding the subject and to discuss possible solutions.
Speakers include, Marchu Girma (Women for Refugee Women), Laura Padoan (External Relations Officer, UNHCR), Lorenzo Pezzani (Forensic Oceanography, Goldsmiths), Maurice Stierl (Watch the Med, Alarm Phone and University of Warwick), Daniel Trilling (Journalist, The Guardian).
This event follows on from the highly acclaimed exhibition on migrant deaths at sea 'Sink Without Trace' (www.sinkwithouttrace.com ) curated by Federica Mazzara (University of Westminster) and artist Maya Ramsay.
The event will be followed by a drinks reception