The DevCon exploring the convergence in Blockchain / AI / IoT and Big Data
About this event
This page is for those who are looking to just attend talks and workshops over the weekend. If you are a developer looking to join the hack please sign up for free here: https://diffusion2019.devpost.com/
Join some of the world's most exciting Web 3 protocols in blockchain, AI, IoT and Big Data from across The Convergence Stack, for a 2-day dev con made up of hacks, open workshops, exclusive product launches, and live demos.
Be part of the exclusive event that brings together leading decentralised projects and their tribes, developers, economists, system engineers, enterprise and technical academia connecting to define the next major web cycle.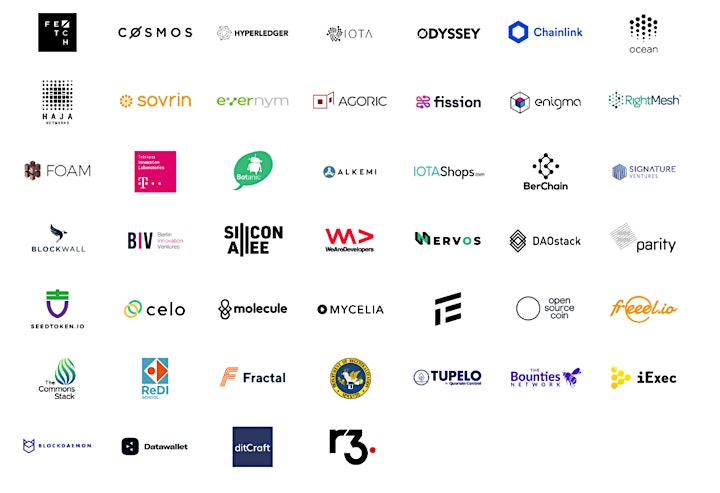 The first protocols to be publicly announced include Fetch.AI, Cosmos, IOTA, Chainlink, Sovrin, Evernym, Haja Networks, Agoric Systems, Ocean Protocol, Aragon, Fission Codes, Enigma, FOAM, Rightmesh, Alkemi and SEED.
We'll have a hackathon track run by Odyssey, enterprise (Deutsche Telekom Innovation Laboratories T-Labs) and a huge number of investors (including a Blockwall Capital, Berlin Innovation Ventures and Signature Ventures) who will be mentoring and judging the event.
Some of the names you can hear from include:
Marta Piekarska-Geater, Director of Ecosystem at Hyperledger
Jamie Burke, CEO of Outlier Ventures
Holger Kother, IOTA, Director of Partnerships
Johann Eid, Chainlink Product Manager and Developer Evangelist
Toby Simpson, Fetch.AI, CTO
Trent McConaghy and Bruce Pon, Founders of Ocean Protocol
Samuli Pöyhtäri, CEO of Haja Networks
Borris Mann & Brooklyn Zelenka , Co-Founders of FISSON
Kerstin Eichmann, Managing Director, innogy Innovation
Dominic Briggs, General Partner, Blockwall Capital
Elad Verbin, Lead Scientist & Founding Partner, Lunar Ventures/ Berlin Innovation Ventures
Sebnem Rusitschka, Founder Freeelio
Angela Kreitenweis, Founder TEGG 2019, Co-Founder Token Engineering Global Community
Yoann Berno, Senior Venture Developer, Next Big Thing
André Cruz, CTO, Moxy.studio
Dr Michael Zargham, Founder & CEO at BlockScience
Melanie Mohr, CEO of WOM protocol
Ricardo Rius, and Benjamin Kamppmann, Parity
Marcin Rudolf, Co-founder & CTO, Neufund
Nathan Shedroff, Executive Director, SEED
Ryan John King, Co-Founder, FOAM
Johann Eid, Product Manager and Developer Evangelist, Chainlink,
Marko Baricevic, Developer Relations at Tendermint/ Cosmos
John Calian, Senior Vice President, Head of T-Labs Deutsche Telekom Innovation Labs
Aron van Ammers, CTO, Outlier Ventures
Brooklyn Zelenka, Co-founder, Fission
Dimitri De Jonghe, Ocean Protocol, Head of Research BigchainDB/ Co-Founder at Ocean Protocol
Boris Mann, Co-founder, Fission
Billy Rennekamp, Co-founder, developer, artist, Cosmos/ Clovers Network
To see the full agenda check out the official Diffusion website: https://diffusion.events/#section-11