Event Information
Location
West Herts College
Hempstead Road
Watford
WD17 3EZ
United Kingdom
Description

Digi-Cluster is the leading digital meetup for agency owners across Watford and Hertfordshire where you can join the discussion around the future of digital and technology, hear amazing guest speakers, have a drink, food and some good conversation with like-minded business owners in the Hertfordshire digital scene.
In 2019 we will be bringing you brand new speakers, new pitches, new networking opportunities and even more yummy food and drinks!
We have 3 amazing panellists joining us on Tuesday 29th January for the first Digi-Cluster of 2019. They will join us in a panel discussion to talk on the future of technology, where we will be looking ahead at 2019 and the trends & predictions within digital innovation.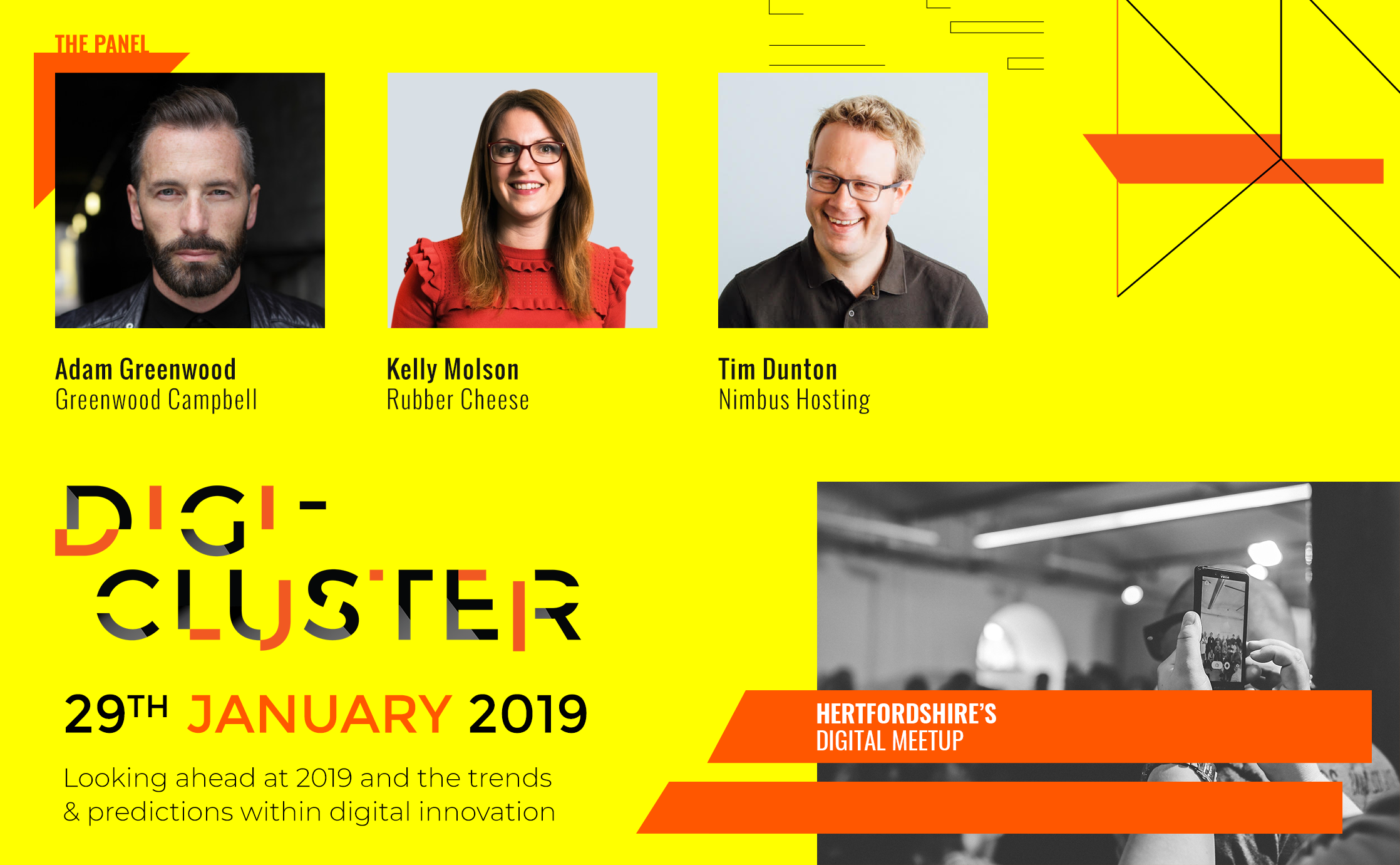 Adam Greenwood - Greenwood Campbell
Adam is an agency founder and entrepreneur. He feels extremely lucky to spend his days learning in great detail the inner workings, intricacies and nuances of vastly different industries, from charities to sports brands to personal finances and care homes.
He has spent a lot of his professional life learning about technology and uses this knowledge to help different industries achieve their goals, from increases in sales to more efficient operations and digital transformation.
He is an international speaker on the subjects of artificial intelligence, the future of technology, social media and company culture.


Kelly Molson - Rubbercheese
Kelly Molson is the Co-founder and Managing Director of Rubber Cheese, an award winning web design and development agency with studios in Hertfordshire and Cambridge.
Digital partner to national and global brands such as Pernod Ricard and Chivas Brothers, Rubber Cheese work across the food & drink, visitor attraction and museum sectors, developing websites and platforms that improve conversions, save resource and increase your sales.
Blogger at kellymolson.co.uk a collection of interviews with leading women agency owners, helping to raise the profile of women in the digital industry.
Kelly recently founded Mob Happy a peer-to-peer network for agency owners, helping to increase the percentage of women agency owners by supporting existing founders on their journey and inspiring up and coming leaders. Structured as a not-for-profit, they invest in running enterprise days and confidence building activities in primary and secondary schools.

Tim Dunton - Nimbus Hosting
Tim's background has been in web hosting for over 20 years and he's seen the industry change and evolve both from a service perspective, and the hosting needs of agencies. As a result of this, Tim has embedded a customer focused service into the forefront of his business, setting Nimbus aside from those whose customer service is secondary to their hosting offering.
As Managing Director of Nimbus Hosting, Tim leads a team of talented individuals including their on hand technical team that take away all headaches for their clients as soon as they are on board. Their aim is to offer a simple, fast and customer focused service to digital agencies, which lead to the in-house development of their hosting platform, STORM, designed and developed to allow agencies to focus more on their web development and less time on server management.

What people say about Digi-Cluster
"This was a really vibrant and fun event which encouraged business in a relaxed and informal setting. It's great to be a part of the JB Cole and Clock network."
Matthew Cawthorne, Managing Director of The Alternative Board (Three Rivers)
Our sponsors
We are excited to welcome back the wonderful Nimbus Hosting as our sponsors for Digi-Cluster 2019!

Nimbus Hosting are a dedicated team providing high quality web hosting. Their in-house built Hosting Platform STORM, has been specifically designed for agencies and freelancers to streamline their workflow and manage their client's hosting needs. Conceived and developed from the frustration of our clients, who were struggling with the standard offering of control panels, STORM provides the core functions required to manage your web hosting via a simple interface.
They have a 14-day free trial of STORM available, with full access to explore just how much you can simplify how you manage your hosting.
Upcoming event details
Date: Tuesday 29th January 2019
Time: 18:30 - 21:30
Location: West Herts College, Hempstead Road, WD17 3EZ
Photographs / videos will be taken at this event. These images will be used by Digi-Cluster to share news about the event, and to publicise our next one. Images may be used in press releases, printed publicity and across social media. If you would prefer not to be photographed, please speak to Amy McMillan or Rhiannon Bland.
The Digi-Cluster team
Watford and West Herts Chamber of Commerce

Our sponsors:


Date and time
Location
West Herts College
Hempstead Road
Watford
WD17 3EZ
United Kingdom