Digi Drop in with the Evolutionary and Adaptive Systems group, University o...
Description
Join us for a morning of coffee, networking and to hear all the latest news and opportunities from the Digital Catapult Centre Brighton..
We are delighted to be co-hosting our first Digi Drop-in of the year with EASy, the Evolutionary and Adaptive Systems group from the University of Sussex. Members of the team will be here to share the latest research around artificial intelligence, consciousness and embodied cognition. Together we will explore what can be learnt through the study human cognition and consciousness and how this can be implied to the design of future technology.

The group will share the vast applications of this field to wayfinding of autonomous vehicles, robotics and the processing of data. This event is a must-attend for anyone interested in the practical and philosophical questions of where artificial and human meet as well as understanding the bleeding edge applications of this technology.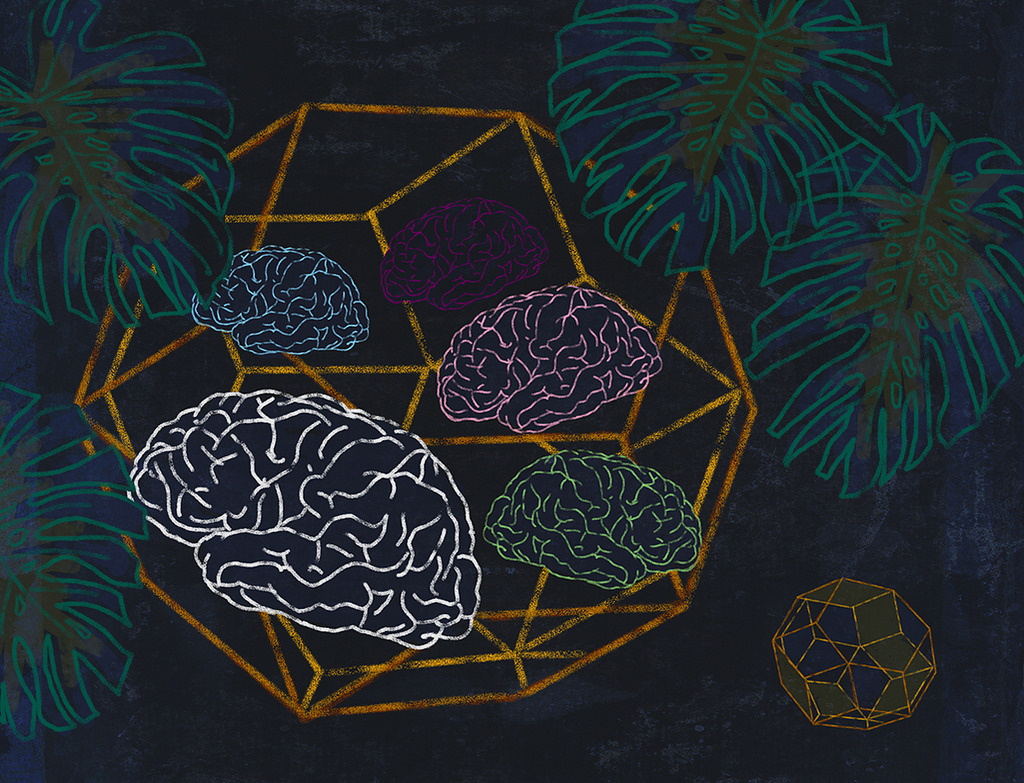 Illustration by Yumikrum


More about the event
The Digital Catapult Centre Brighton's monthly Breakfast Drop-Ins are open to all but are especially curated for start-ups and small and medium enterprises. Join us for a coffee in The FuseBox to find out more about the work the Digital Catapult Centre Brighton supports involving various themes around digital innovation.


---
More about the Evolutionary and Adaptive Systems group, University of Sussex
EASy is one of seven research groups in the School of Engineering and Informatics at the University of Sussex.
The research of the EASy group covers a rather diverse collection of specific research topics.
The founder of the group, Prof Husbands is known internationally for his work on evolutionary robotics, a field that he founded. Prof Seth is a world leader in Consciousness Science. Dr Buckley works on predictive coding and embodied cognition. Dr Berthouze works on network science and its application to brain networks. Dr. Philippides is an expert in insect navigation and its application to bio-mimetic robotics. Prof Nowotny works on brain models of insect brains, hybrid computer-brain systems, accelerated brain simulations and biomimetic robotics. Dr. Thornton works on aspects of natural and artificial learning systems. Dr Chrisley is a philosopher by training and works on aspects of cognition and consciousness. Prof Boden, an adjoint Emeritus member, is a world leading expert in cognitive science and Prof Holland, a visiting Emeritus, is a prominent figure in cognitive humanoid robotics.
Members of the EASy group are leading three research centres, the Sackler Centre for Consciousness Science, COGS and the CCNR (Centre for Computational Neuroscience and Robotics).
---
More about Digital Catapult Centre Brighton
The Digital Catapult Centre Brighton focuses specifically on projects that encourage innovation and value from real-time and location-based data – known as the Internet of Place. Led by Coast to Capital LEP in collaboration with the core delivery partners – the University of Brighton and Wired Sussex, the centre will be tasked with delivering on a range of innovative projects, designed to be accessible to start-ups and SMEs to use and learn from. The Centre will work across the whole Coast to Capital region which includes West Sussex, Lewes and Brighton & Hove.