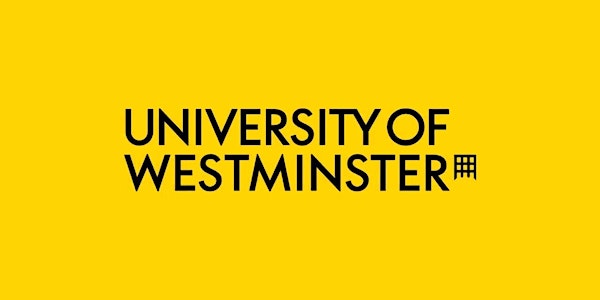 Digital Accessibility Awareness Week - University of Westminster
Learn about an accessible learning environment through a series of webinars where industry experts will be sharing their experiences.
About this event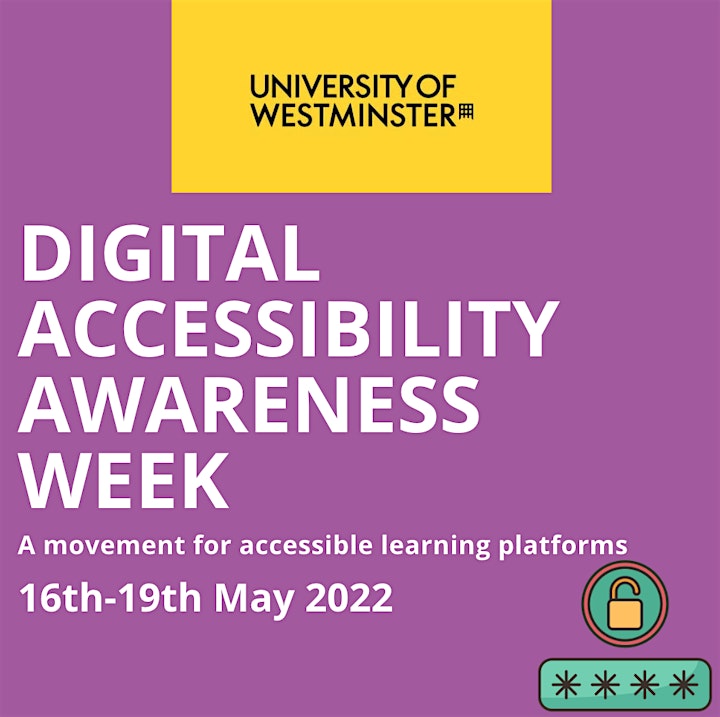 Thursday 19th May is Global Accessibility Awareness Day (GAAD). This is a day for celebration and raising awareness of how we can all contribute to creating accessible and inclusive environments whether that be in education, at home, at work, or in our communities.
At the University of Westminster we want to celebrate GAAD 2022 with a series of lunchtime events across the week between the 16th and 19th of May covering a range of topics relevant to Higher Education. All sessions will be between 12 and 2pm.Industry experts will join us who share their valuable knowledge and experiences regarding accessibility in various contexts.
These sessions are open to all Westminster students,staff and members of the public. As the Chair of the London Higher Education Digital Accessibility Working Group, we invite everyone across our community to get involved and help spread awareness about the things we can all do to be more inclusive this GAAD and beyond.
If you have a disability or any additional needs and require assistance,please contact Amina Mahmood (mahmooa1@westminster.ac.uk)
Webinar Schedule
Day 1(16-05-22) Engaging Students and Staff
12:00-13:00
Title: Going back is not a choice – Accessibility lessons for Higher Education
Speaker: Mette Westander (Founding director, Disabled Students UK)
Description: A year into the pandemic, Disabled Students UK (DSUK) sent out a survey asking disabled students about their experiences in Higher Education. They gathered the voices of more than 300 students. Less than a quarter of respondents said they had received the disability support they required. At the same time, the widespread availability of lecture recordings has constituted a huge leap forward in accessibility. The survey asked: "What lessons do you hope that your university learns from the pandemic to become more accessible moving forward?"
Building on the answers DSUK created the report Going Back is Not a Choice – Accessibility Lessons for Higher Education. In this talk, Mette Westander( Founding Director of DSUK) will describe 5 lessons from the pandemic which will allow Higher Education Providers to become more inclusive to disabled students going forward.
13:00-14:00
Title : Accessible Recruitment – Easy steps to make recruiting more inclusive
Speakers :
George Rhodes – Digital Accessibility Lead, University of Westminster
Daniela de Silva – Academic Engagement and Development Manager (Accessibility), University of Westminster
Description: How do we make our recruitment accessible and open to a diverse range of applicants including supporting those with a range of access needs? This talk will focus on lessons learnt in recent University of Westminster recruitments including some basic techniques you can use to make your next recruitment exercise more rewarding for all involved.
Day 2 ( 17-05-22) Specialist Notations
12:00 - 13:00
Title: Accessible STEMM Notation
Speaker: Jim Tyson – UCL
Description: Specialist notation in STEMM fields can be a challenge to make accessible, for example, content such as maths or chemical formulae. Jim is heading up a collaboration to spread resources to help make STEMM notation more accessible for all using techniques and software already in place. In this talk, he will reflect upon his experience and key findings.
13:00-14:00
Title: Accessible Music Notation
Speaker: Ben Watson – Digital Accessibility Lead, UCL
Description: Building on recent work with the Royal College of Music, Ben will discuss some of the challenges in making musical notation accessible particularly given a subject which requires interaction with a range of industry standard specialist software which presents its own accessibility challenges.
Day 3 (18-05-22) You are not alone
12:00-13:00
Title: Supporting Blind and Partially Sighted Students
Speaker: Thomas Pocklington Trust
Description: Thomas Pocklington Trust is a specialist charity supporting Blind and partially sighted people. Their education team offer support for students of all ages and has recently produced research on the support for Further Education students which showed many areas for improvement and was cited in the most recent Lord Holmes report on the Disabled Student Allowance to the House of Lords. In this talk, Thomas Pocklington Trust will be giving an overview of the range of support services they offer and how students and staff in Higher Education can engage.
13:00-14:00
Title: Creating Inclusive and Accessible workplace – Sharing experience of University of Westminster's Colleague Disability Network
Speaker: Claire Robertson – Senior Lecturer, University of Westminster
Description: Two colleagues at the University of Westminster recently formed a Colleague Disability Network, aiming to create a safe space from which to recognise successes achieved and promote positive adjustments for colleagues impacted by disability. Inspired by feedback received in responses to their 'launch survey', founding co-chair Dr Claire Robertson shares insight into the early actions of this colleague network and plans for the coming 12 months.
Day 4 (19-05-22) Building Accessibility Maturity
12:00-13:00
Title: Sustaining Accessibility – Accessibility related appraisal objectives
Speakers:
Matthew Deeprose – University of Southampton
Tamsyn Smith – University of Southampton
Description: How can IT departments sustain their accessibility efforts? While there are vital procedural and technical answers we should also consider the importance of cultural change. In this presentation, Tamsyn Smith and Matthew Deeprose will discuss early work on embedding accessibility within appraisal objectives.
13:00-14:00
Title: Teaching Accessibility as a shared endeavour – Answering key challenges in the building of accessibility culture
Speaker: Dr Sarah Lewthwaite – Centre for Research in Inclusion, University of Southampton
Description: The social model of disability, accessibility legislation, and the digital transformation spurred by COVID-19 continue to expose a lack of accessibility capacity in our digital workforce, indicating persistent gaps in academic and professional education. In this presentation, Sarah draws on qualitative research with 30 expert educators in academia and the workplace to consider the relationship between these sectors in building accessibility capacity. Insights highlight important disconnections and contextual challenges that educators must manage and navigate. In the workplace, digital accessibility is increasingly recognised as a shared endeavour. However, in academia, faculty cultures and disciplinary silos can result in responsibility for accessibility defaulting to individuals. What can we do about this? To prepare accessibility-skilled professionals, cross-role education and training are necessary across disciplines. With a focus on teaching and training practices, in the discussion, we will consider how academia and the workplace might learn from each other and adapt together to collaborate, network and generate pedagogies that better prepare learners for accessibility practice.