Event Information
Location
Centre Universitaire d'Informatique (CUI)
7 route de Drize, Battelle, bâtiment A
1227 Carouge
Switzerland
Description


Dear Parents / Chers parents,
We are inviting your daughters to join us on July 2th-5th to discover the world of digital technology together / Nous invitons vos filles à nous rejoindre le 29 et 30 juin pour découvrir ensemble le monde de la technologie numérique.
Tech Playground is a community of young girls who can explore the world of technology by playing with different digital tools to produce great designs, websites, mobile apps, audio-visual media, animations to find a field that resonates with their personal interests and career aspirations. / Tech Playground est une communauté de jeunes filles qui explorent le monde de la technologie en utilisant différents outils pour produire des designs, sites web, applications mobiles, médias audiovisuels et animations afin de trouver un domaine dans lequel elles peuvent développer leurs intérêts personnels et leurs ambitions professionnelles.
By being part of our community girls learn digital skills in a fun way that translates into their everyday life and are an essential part of being exposed to different career fields. / En faisant partie de notre communauté, les filles gagnent des compétences de manière ludique, qui sont utiles dans leur vie quotidienne et qui sont essentielles pour une bonne exposition à une variété de champs professionnels
---
About the Workshop / À propos du workshop:
It is introductory level, filled with creativity, four-days course for girls aged 11-16 years old during which they will be introduced to the art of game creation exploring the following fields: / C'est un workshop de quatre jours, introductif et créatif, exclusivement pour filles de 11 à 16 ans. Nous leur introduirons l'art de la création de jeux en abordant ces différents sujets:
- Digital pixel art and animation / Pixel art et animation numérique
- Digital music production / Production de musique numérique
- Game design and programming / Programmation et conception de jeux
By the end of the course each girl will take home a fully playable game! / À la fin de ce workshop, chaque élève ramènera chez elle son jeu vidéo totalement jouable
The Rise of Video Game Art / L'essor de l'art du jeu vidéo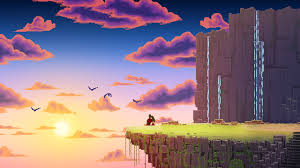 Video games have one more significant connection with digital art, and that is the experimentation with human-computer interface, interactivity and aesthetics of computer image that provided a base for artistic performances. / Les jeux vidéos ont une autre connection significative avec l'art numérique. Il s'agit de l'expérimentation avec l'interface entre l'humain et l'ordinateur, l'interactivité et l'esthétique de l'imagerie digitale qui fournissent une base pour les performances artistiques
---
You may want to know that our Tech Playground is built around the model of "teach one to reach one", where a percentage of the workshop contributions are used to fund the same sessions we hold in remote countries where girls lack these opportunities to play and learn. / Il est bon à savoir que Tech Playground est basé autour du modèle « Teach one to reach one », où une partie des contributions du workshop sont utilisées pour financer les mêmes séances que nous tenons dans d'autres pays où les filles manquent d'opportunités pour s'amuser et apprendre.


Register for the upcoming workshop
Suitable ages: Girls from 11 to 16 years old / Âge: pour les filles de 11 à 16 ans.
Prerequisite: Each participant should bring her own laptop with a modern browser like Chrome or Firefox / Pré requis : chaque participante doit ramener son propre ordinateur portable avec un navigateur moderne tel que Chrome ou Firefox.
Lunch time: 12:00 – 13:00 *Please bring your own lunch / Pause midi: 12:00 - 13:00* merci d'amener votre propre repas Langues
Languages: English and French / Langues: Anglais et Français.
Location: Centre Universitaire d'Informatique (CUI), 7 route de Drize, Battelle, bâtiment A, 1227 Carouge, Switzerland / Lieu: centre universitaire d'informatique (CUI), 7 route de Drize, Battelle, bâtiment A, 1227 Carouge, Suisse.
Please let us know if you have any questions: info@emplab.org / Si vous avez des questions, merci de nous contacter info@emplab.org
Date and Time
Location
Centre Universitaire d'Informatique (CUI)
7 route de Drize, Battelle, bâtiment A
1227 Carouge
Switzerland
Refund Policy