Sales Have Ended
Ticket sales have ended
Booking for this event has now closed. For further information of possible availability please contact Gioia Grobler on 07977 429671
Sales Have Ended
Ticket sales have ended
Booking for this event has now closed. For further information of possible availability please contact Gioia Grobler on 07977 429671
Description
Digital Bootcamp in Devizes hosted by FSB Wiltshire:

5 strategies to help small business to stay relevant by doing business digitally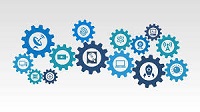 We are staging this Bootcamp to help you and any small business (members and non-members) to get the most out of the many digital tools available to market your business, helping you stay relevant and reach new customers online. The event will feature five seminars from local business experts.

There will be top tips that you can take away and implement immediately
---
Programme:
10.00am - Delegates arrive, register tea and coffee and networking
10.30am - 'Marketing on a Shoestring' – Lindsey Brown-Burden, LBB Business Solutions
Marketing your business can be time-consuming, frustrating and overwhelming. It's why focus in the right places, using the right tools is important and key to success. Lindsey will explain the fundamentals before diving into her marketing tool box. Sharing with you her tops tips and tricks for using the tools you may already be using and those you have not yet discovered or had the confidence to try.
11.15am - 'Cyber Security – What Small Business Owners Need to Know' – Ben Johns, SW Police Regional Cyber Crime Unit
Talking about what the SWRCCU dose, how organised crime has changed with Cyber, real life examples of the threats facing businesses in the South West and simple advice on how to protect your business from these cyber-attacks.We will also be talking about how to develop your security and how to report a cyber-attack. If you have concerns about your cyber security then come and listen.

12 noon – 'Making sure your business is found online' – Ruth Allen, RA Digital
Everyone needs to be online. We all know it. But in a world full of acronyms like SEO, UX, PPC, who knows where to start in online marketing? This talk will cover the basics of getting your organisation seen online. It will cover getting started in SEO and User Experience (UX), as well as explaining some free tools that can really help you manage (and measure) your online presence.

12.45pm - Lunch (sandwich buffet)

1.30pm - '10 ways to use LinkedIn – that have nothing to do with recruitment but everything to do with sales' – James Potter, The Linkedin Man
If I was to ask the average person what LinkedIn is I suspect they would say it's a job site. Yet recruitment is only number 25 on the top industry categories on LinkedIn in the UK and is not a top 3 in any city in the UK! LinkedIn's research is that 80% of people are on LinkedIn for professional use, but what sort of use? Well there's the obvious ones like networking, sales and word of mouth, but then there is the more creative ones used by procurement, researchers, analysts and even spies (yes we've trained spies on LinkedIn!). Come along to this talk to learn about all the things you can do with LinkedIn, have your perception reset of how to think about it, and the value you can get from it easily and most often without even paying.
2.15pm - 'Reaching out to your customers using Facebook' – Victoria Barrett, Wedding Business Circle
With over 2 billion active Monthly users on Facebook, it's a form of marketing that has people jumping for joy or tearing their hair out. It isn't always easy to understand what will (or wont) work for your business on this platform, but by understanding and implementing todays tips it will give you a stronger foundation to work from. Victoria will explain how you can get a better understanding of Facebook, how you can understand your current audience and find out helpful information about them. By using this information with the preferences for the newsfeed algorithm you will be better placed to engage with your audience on your page and through advertising.

3pm close
Cost: £15 per person includes tea/coffee and sandwich buffet
Parking: Car parking is sited within walking distance of the venue. Charges apply. We recommend the long stay section (the far end of the car park) - Station Road Devizes, SN10 1BZ. £4.50 for all day

08-23770-0312