Multiple Dates
Digital Cities Bristol 2018 - Open Doors - Great State
Description
Digital Cities Bristol 2018 Open Doors - Great State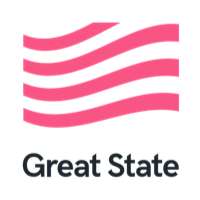 ---
Digital Cities Bristol is a week-long programme of free, inspirational learning and networking opportunities aimed at developing the skills of both the current and next generation of content makers working in the creative industries. The Digital Cities project has run successfully in Bristol for five years, bringing industry partners together to boost their region's digital and production skills and acting as a catalyst for exciting collaborations within the creative sector.
Open Doors is an opportunity to join small groups visiting successful creative & digital businesses across Bristol for a look behind the scenes.
---
Come and learn about life in a contemporary digital agency
Tuesday 27th November and Thursday 29th November 11:00 - 12:00
Whether a client or prospective employee, come and join us for an hour to learn how we think and how we operate. We will introduce our view of the digital world and debate the strategic, creative and technical challenges that we solve for our clients. We want to give you a taste of what it's like to work at Great State, the skills and attitudes that we value and present examples of work that we have delivered for brands such as Honda Europe and the Royal Navy.
As well as learning more about our work you will have the opportunity to meet members from the strategy, creative, technical and management teams, to talk about what makes them tick and gain insight into the career choices they have made.
About Great State
Great State are a new breed of digital agency that has been designed to help clients keep pace with the increasing expectations of todays connected consumer. Our team of 80 across Bristol and London studios offer the following services:
Brand and Growth Strategy
Digital Strategy and Transformation
Product Innovation
Service and Experience Design
Technical Delivery and Support
We work with a wide range of clients from Adidas and Deliveroo to Honda Europe and the Royal Navy.
---
You can see a complete list of the Open Doors events happening during Digital Cities Bristol 2018 here.
---
"We take your data very seriously and are committed to the privacy and security of it. Please note that by registering for this event, your data will be available to all companies involved in the organisation and hosting of the Open Doors events, as part of Digital Cities Bristol. Your data will be used for event management purposes only, such as reminder emails and joining instructions."