Description
Despite the assumption that we live in a super-connected and smart-phone obsessed society, it is still the case that many of us remain at the margins of the so-called digital revolution. As health and care services increasingly move online, what impact will digital exclusion have on the way people experience care? Who will benefit and who will be left behind?
This workshop brings together national leaders and experts in the field of digital inclusion along with local champions who are making a difference in our city. Nicola Gill, programme lead for the NHS Widening Digital Participation programme, will set the national scene along with Pete Nuckley from Sheffield based digital inclusion charity, the Good Things Foundation. Claire Duffield and Jason Tutin, from Leeds Library and Information Service at Leeds City Council, will share what is happening in our city to realise our 100% digital ambition and Rob Pritchard from Mojo Film will join us to share his journey and experience of using Studio12, an audio visual media project providing free access to a production studio at Leeds Central Library.
This workshop is suitable for anyone who is interested in digital inclusion from practice or policy perspectives. You can also find out how you can get involved in supporting Leeds' 100% digital ambition.
About our speakers:
Pete Nuckley - Service Delivery Manager for the NHS Widening Digital Participation programme and Good Things Foundation
I'm Pete Nuckley, Service Delivery Manager for the NHS Widening Digital Participation programme and Good Things Foundation. My role is to set up 20 pathfinders that will investigate models of digital health inclusion for the most excluded groups in England. We are working with homeless people in Hastings, people with sensory impairments in West Yorkshire, elderly isolated individuals in Sunderland and a host of others. I help co-design models of care and iterate them until we know what works and what doesn't.
I have a background in service delivery, including being part of the GDS Digital Academy and front line services for people with complex needs in DWP. When I grow up I'd like to be a poet!
Claire Duffield - Digital Engagement Librarian, Leeds Library and Information Service at Leeds City Council

I am Digital Engagement Librarian for Leeds Library and Information Service. The Library service is leading the way in digital inclusion within the city of Leeds with the largest tablet lending scheme in the country. Our 100% Digital Leeds ambition is to reach the most digital excluded and create a digital movement across the city. My role within this body of work is to identify and support individuals, community groups and organisations by providing access to equipment, resources and training. We are also looking to source digital champions who will deliver peer to peer support to the citizens of Leeds.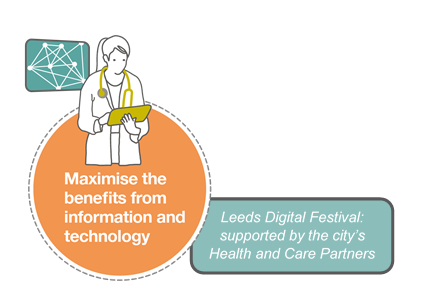 Our city's Health and Wellbeing Strategy 2016-2021 sets out a clear vision that 'Leeds will be a healthy and caring city for all ages, where people who are the poorest improve their health the fastest'. This includes maximising the benefits from information and technology as a key priority. The health and wellbeing strand of the Digital Festival is a celebration of the diverse and innovative work taking place to help us achieve our shared, bold ambition for Leeds to be the best city for health and wellbeing.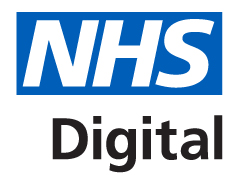 Based here in Leeds, NHS Digital is harnessing the power of technology and data to improve the use of health and care resources and make lives better.
As the national IT partner to the health and social care system, we provide a range of services and expertise including infrastructure that keeps services working 24/7, data security services, more than 200 official statistical publications and vital information that helps patients, doctors and nurses every single day.
We are one of the largest employers in not only this city, but nationally as a leading organisation for technologists, analysts and specialists from a spectrum of fields, from communications to finance, who want to make a difference.
We will be taking part and hosting events throughout the festival so come along and find out about what we do, why it matters and how you can get involved.