Digital Craft Festival: Paper Flower Make Along with paper artist, Jennifer Collier
About this event
Digital Craft Festival Event
Paper pioneer, Jennifer Collier creates exquisite sculptures from vintage recycled materials in conjunction with stitch, a contemporary twist on traditional textiles. The papers serve as both the inspiration and the media for the work, with the narrative suggesting the forms. Through this marriage of unlikely materials old papers are transformed into something truly unique, delicate and complex.
The Digital Craft Festival proudly presents:
Paper flowers Make Along with Jennifer Collier
Join Jennifer Collier for a make a long on zoom, where she will show you step by step how to make 2 types of paper flowers: Paper Roses and a 5 point Origami Flower.
If you make sure you have the few essential materials on the day you can join in and make along, but of course you can always just watch and then have a go at your own leisure later.
For this you will need:
Found/recycled paper (ANY type or size)
Scissors
Ruler
Pencil
Glue (a strong clear glue like UHU or Bostic works best, but a glue gun works too)
Paperclips (or hair clips work)
And OPTIONAL for this are:
Thin wire or wooden skewers
Buttons and beads
Grey board or scrap card to make a template
Please be aware that this event will be recorded.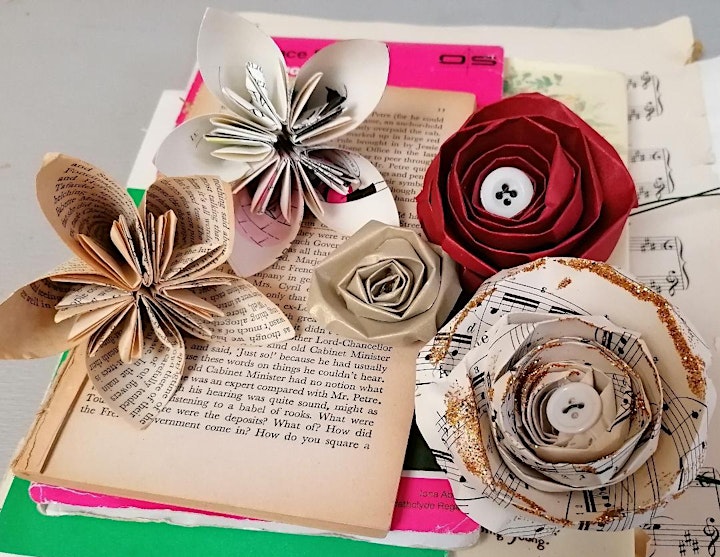 Organiser of Digital Craft Festival: Paper Flower Make Along with Jennifer Collier