Description
One day.
One venue.
4 digital workshops.
Plenty of networking.
Leading local experts.
121's available.
FREE AND FUNDED (usually £75) by Dorset Growth Hub for all eligible Dorset businesses, specifically growing businesses who need to better understand the topics covered on the day and where they can get the best support to help them with their journey.
With thanks to the great venue that is Merley House, we are bringing a collection of our workshops to one venue in order to deliver a day of engaging, interactive, digital content to help you and your business navigate the digital world. The digital landscape can be complex and a vast subject to cover, but we hope this day will bring insight, knowledge and some key information to take away that will let you improve or start your digital journey.
We've cherry-picked some of the most in-demand subjects from business owners across Dorset and packaged them up into some bitesize 2 hour workshops; all you need to do is choose which two workshops you want to attend on the day. We will provide the "how to" approach in four key areas.
SEO Today - a workshop on the Search Engine Optimisation changes as of April 2019 with tips on how to maximise them for your online presence
Email Marketing - how to generate e-newsletter and e-shots using Mailchimp.
Instagram Stories - Explore one of the fast-growing and most engaging digital marketing tools. Your Instagram Stories may disappear after just 24 hours, but their impact on your audience can last much longer. Learn how to use Stories to connect with your customers.
Website User Experience - You like your website, but do your customers? Learn what makes an effective website that not only communicates well but turns website visitors into customers. With support from George Beverly of Insightful UX and their new UX Campus, it;s a workshop not to be missed!

We will take care of refreshments, lunch and networking opportunities and ensure the day is as useful for you as possible.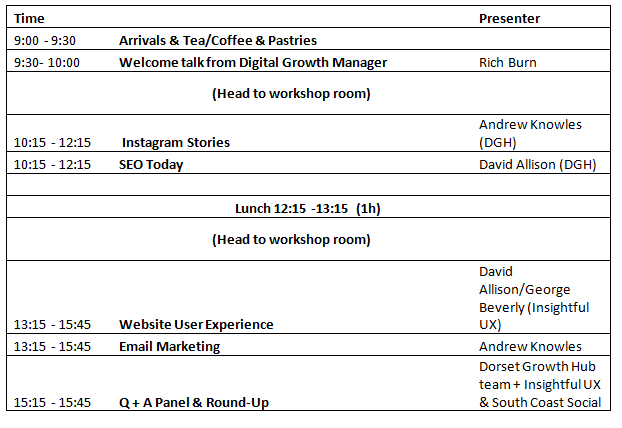 We will have guest companies including Insightful UX, South Coast Social, MPZ Mail providing industry insights to the world of Website User Experience, Social Media and Email Marketing Automation.
Please note this event is strictly one ticket per person/business.
---
This workshop is completely free and funded by the European Regional Development Fund. It's delivered by Dorset Growth Hub and WSX Enterprise. It is only open to Dorset, UK registered SME's and aspiring entrepreneurs within home addresses in Dorset, UK postcodes.
Only one place allowed per business. Please contact the Growth Hub if you wish to reserve a space for another organisation or person.
Please also note that some sectors are not eligible for support on this programme due to Central Government Legislation. These sectors include: *Fishery & Aquaculture, *Primary production, processing and marketing of agricultural products, *Coal, Steel and shipbuilding sectors,*Synthetic Fibres, *Generalised School Age Education, *Banking and Insurance Companies. (*please follow the link for full eligibility guidelines: https://www.gov.uk/government/uploads/system/uploads/attachment_data/file/15275/National_Eligiblity_Rules_V2.pdf)
Some Retail activities are also subject to ineligibility. Due to any ineligibility, we can only accept those who are eligible into our range of courses and workshops. If you require more information or are unsure if you are eligible for the support we offer, you can call us on 01202 607533 and a member of the Dorset Growth hub team will be happy to help