Digital Economy Network: Exhibitors -CDT Showcase & Networking Event 2018
Description
Digital Economy Network Annual Meeting and CDT Showcase 2018
Digital Catapult Centre, London, NW1 2RA
Thursday 1 February 2017, 5.00pm-7.30pm & Friday 2 February 2017, 9.30am-3.00pm
The Digital Economy Network is launching the DEN Annual Meeting 2018 and would like to offer our member CDTs the opportunity to participate in an accompanying CDT Showcase, which will be held on 1-2 February 2018, at the Digital Catapult Centre in London.
On Thursday 1 February, from 5.00pm -7.30pm, DEN will host a CDT Showcase Networking Reception (drinks and nibbles) at the Digital Catapult that CDT colleagues, collaborators and stakeholders from across the Network will be invited to attend.
The showcase will then continue on Friday 2 February, from 9.30am-3.00pm at the venue, allowing CDT students and staff the valuable opportunity to both share and find out more about each centre's research activities, and also provide the chance to meet again with existing contacts and well as forge new ones.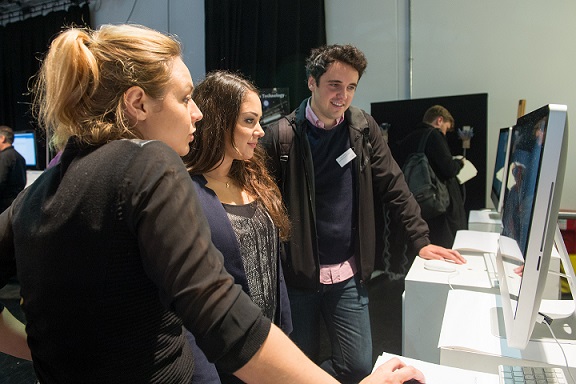 Each DEN CDT will be have one 2m x 1m table (with power) allocated to table-top exhibit their research achievements and projects to the rest of the DEN community, with space for pull-up stands. There will also be a large screen in the event auditorium that will be able to screen a variety of films and media from across the centres.
Centres could choose to present:
An individual piece of research/interactive exhibit or prototype that repesents their CDT.
a collection of media or materials that highlight CDT achievements to date.
information on the career destinations and successes of their postdoc alumni.
an activity or initiative they have been involved in as part of the Digital Economy Network.
Event Timetable:
Thursday 1 February 2018
9.30am -10.00am: Registration and refreshments (DEN Annual Meeting)
10.00am - 3.00pm: DEN Annual Meeting 2018 (CDT staff, students, EPSRC) - with buffet lunch provided
3.00pm - 4.00pm: DEN CDT Directors Meeting
4.00pm -5.00pm: CDT Showcase - exhibit set up
5.00pm - 7.30 pm: CDT showcase and networking event (including drinks reception)
Friday 2 February 2018
9.30am - 3.00pm - DEN CDT showcase event (with buffet lunch provided)
For CDT representatives wishing to reserve their allocated exhibit table, please complete the registration form with initial information by Tuesday 19 December 2017. The DEN Manager, Felicia Black, will then get in touch with you directly to discuss your individual requirements.